Although you may not be a film buff, you would no doubt be able to bluff your way through a question in your local pub quiz on what is James Bond's choice of steed.
Since the first film, 'Dr No' was released in 1962, the cars used have almost always had a very British theme to them, in keeping with a British secret agent, I guess.
The first mode of transport for James Bond was a Sunbeam Alpine, however it's an Aston Martin DB5 that is regarded at the epitome of the MI6 fleet. It's a car that has featured in six of the twenty-four movies screened, first appearing in Goldfinger.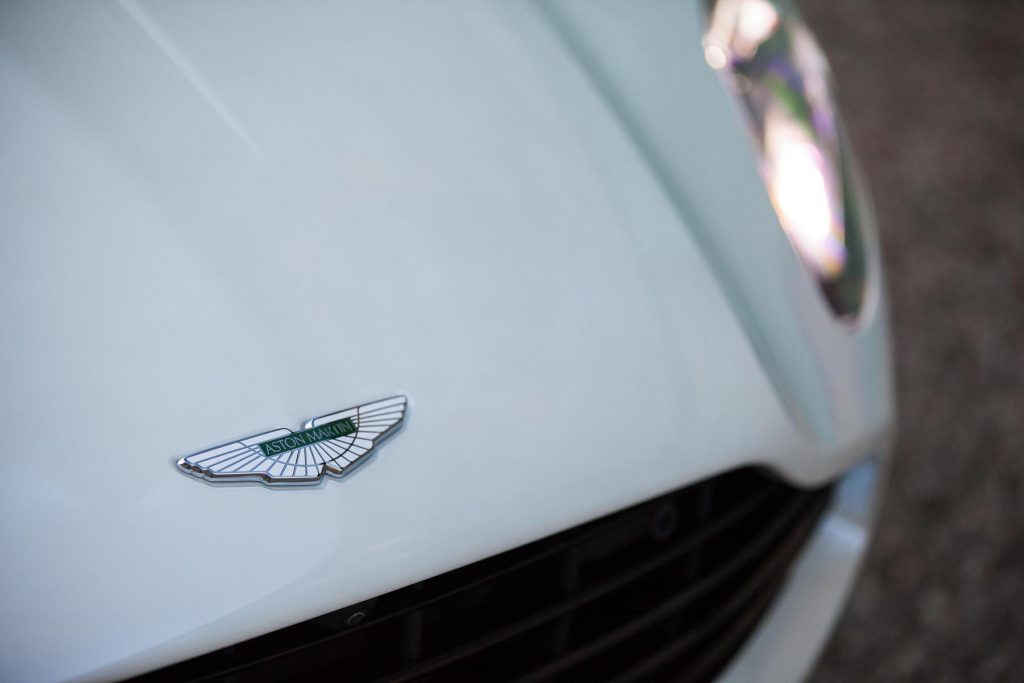 The DB5 was filmed in Glen Coe, Scotland, for Skyfall which was released eight years ago and also features in the latest movie, No Time To Die, which, due to the current health pandemic, has seen its soon to be released status, postponed.
For me though, the Aston Martin to remember is the DBS which comes to an abrupt end during a chase scene in Casino Royale, flipping seven times before coming to a halt.
In 2015 just ten Aston Martin DB10's were created solely for EON Productions creating an exclusive mode of transport for 007, as this model was never destined for mass production, nor public release.
It was a vast aesthetic change from the companies aging DB9, and in a way, paved the road for a DB11 as driven and pictured in this article.
Based in Gaydon, England, Aston Martin is an icon of the British sport car industry and currently produces six models. An all-new SUV named the 'DBX' starts the line-up, then a 'Vantage' is available in Coupe or Convertible.
Next up is the 'DB11' Grand Tourer that I will talk about in this article, followed by the 'DBS Superleggera' which a model that is nothing short of the ultimate production Aston Martin.
A family-friendly four-door is called the 'Rapide AMR' and finally, the 'Aston Martin Valkyrie' tops the family.
Limited to just 150 road-going models, the Valkyrie hypercar leaves nothing in reserve and is an incredibly special car with an equally remarkable name. One that immediately evokes connotations of power and honor, of being chosen by the Gods.
Since 2003, there hasn't been a new DB model, so it was fantastic to get my hands on two of the then-new DB11 models, almost two years ago to the day, to see what the hype was about and being a regular visitor to the driver's seat of the old DB9, changes in every area are clear to see.
The DB11 is available in two guises, Convertible and Coupe, with just two engine options available. All models come with an 8-speed automatic ZF gearbox and a twin-turbocharged petrol engine, the on-the-road stats for which, don't vary a great deal.
A 4.0-litre V8 producing 503bhp and 513lb/ft of torque, sees a top speed of 187mph with a 0-62mph dash achievable in 4 seconds, whilst a 6.0-litre V12 produces a whopping 630bhp with 516lb/ft of torque, enabling it to break the 200mph barrier and will see 0-62mph, 0.3 seconds quicker.
The convertible which starts from £157,900 only comes equipped with the V8, whilst the Coupe priced from £158,900 comes too, with the V8. The range topping 'Aston Martin Racing' model priced from £174,495 comes with the flagship V12 power-train.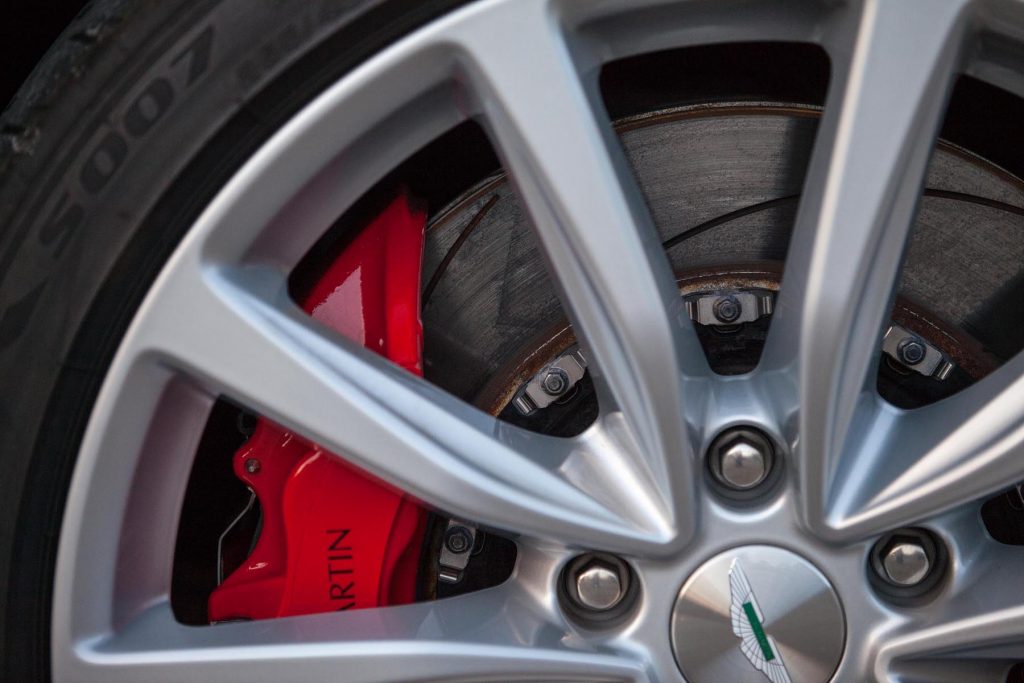 Here I drive the V8 model, on which the attention to detail throughout is nothing short of exemplary, and it's instantly recognisable as Aston Martin, with familiar elements being reinterpreted.
Hand-crafted is a phrase that adequately sums up the DB11, especially inside, where there is less interaction of robotics to create something worthy of its price-tag.
A sea of leather and alcantara with contrasting stitching and plush carpets makes the cabin a pleasure to sit in on the model tested.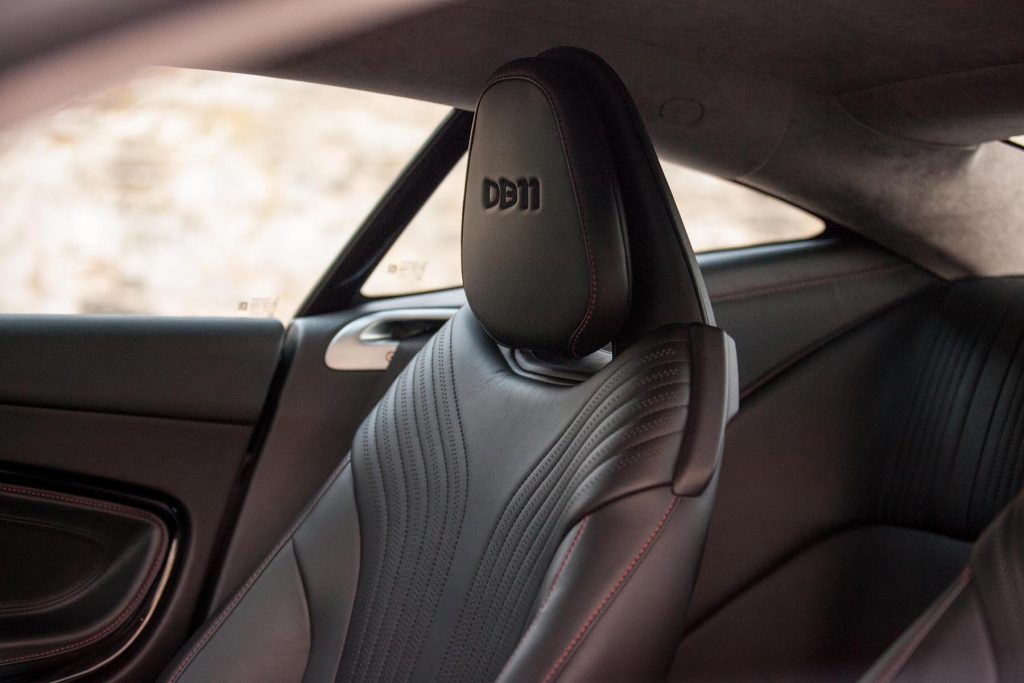 Heated and cooled electrically adjusting memory seating up front doesn't leave a great deal of room for rear occupants, but with ISOFIX, taking the weans out safely, isn't out of the question.
Sporting, yet plush and with the engine start button taking pride of place I the middle of the central dash console, as per the DB9, it is also great to see the gearbox setting buttons remain each side, as before.
A 400-watt audio system is controlled from an 8-inch LCD screen and features iPod and iPhone integration and USB playback as well as AM/FM/DAB radio, Bluetooth audio with streaming and WiFi.
I did find the control-wheel and touch-pad for the infotainment a little tricky to use, but only having the car for two days doesn't allow for easy acclimatising to a system not used before. The boot will easily accommodate two cabin bags or a weekends groceries.
As you can imagine, there is a mountain of standard equipment with the DB11, far too much to even go into and, with an even bigger selection of options and tailored extras if you want a change from rivals such as the Mercedes-AMG S56 Coupe or Ferrari F12, get into your local Aston Martin dealer for a look and chat, it won't disappoint.
Underpinned by a new bonded aluminum body structure that combines lightness and strength, DB11 sets a formidable new standard for sporting Grand Tourers and takes the legendary DB lineage to unprecedented heights.
Three driver-selectable dynamic modes enrich its performance; switching power delivery and suspension between GT, Sport and Sport Plus will adjust the intensity of the drive. DB11 exploits its inner strength and immense performance with completely re-worked chassis, suspension, steering and electronics.
DB11's twin-turbocharged V8 engine, developed by Mercedes, provides the most glorious of soundtracks and is absolutely effortless no matter where, or how, you are driving. A 'cruising machine' is a scribble I found from my time with the car and it really is.
From nipping for a round of golf, to crossing Europe with all the comfort you need and as much haste as you desire, the DB11 will also put a smile on your face, as it did mine, when completing a spirited lap of Strangford Lough on a bright and dry day!
It was a bonding session never to be forgotten.
Words & Photos: GRAHAM BAALHAM-CURRY
images must not be used in any way without prior written consent of the photographer