'Rob Dwane smashes course record on route to winning the 2022 S.W. Adair Tyres Northern Ireland Sprint Championship.'
The 25-year-old air traffic controller from Tulla, County Clare, also managed a clean sweep of wins from all eight of the rounds that he entered during the nine-round championship.
I had the chance to catch up with Rob at the final round of the season, held at Kirkistown Racing Circuit in County Down, where the mammoth task of taking this title became apparent. As this circuit is a seven hour drive from Rob's home in the race lorry.
Bringing his OMS 25 to the top of the rostrum has been Rob's goal for a few seasons now, but it is a lifetime of motorsport alongside his father, Ger Dwane, that has helped get him to this highlight of his driving career.
Rob explains, "My father rallied for twenty odd years in Minis, Avengers, Sunbeams and Escorts. He'd everything. Then he got a Falcon Mini, which was an ex Andy Kittle car, and Dad hillclimbed that for a good few years.
"There were always cars around the place. So it was always on the cards I suppose for myself [to go racing]. We got a go-kart then, which allowed me to do some karting for a couple of years. And then I progressed into the Mini.
"It was all local club stuff down around home and we did that for a good few years."
Not just your average Mini, this space-framed and fibreglass bodied racer was equipped with a 1.4-litre, 8-valve pushrod Mini engine which, although not sounding like much, worked as a package.
Using 2013 as a learning year, which saw Rob travel to the Northern Ireland sprint championship on a couple of occasions, he set about a campaign on the 2014 Southern hillclimb championship.
Winning the 2.0-litre class, which the Mini fell into, Rob fended-off some all the most unrealistic competition and drove to fifth overall. Stating, "In fairness, I'd a good teacher now. My dad was successful in the car, there is no question there, he'd a lot of good years with the car and there is plenty of glassware in his corner at home."
Despite these accolades, Ger Dwane never put pressure on his son for any results when Rob stepped into the car. There was little need to, anyway, as Rob is naturally a very competitive person.
"I've done soccer, hurling and football, the whole lot when I was a kid, and I wasn't winning. Straight up, I wasn't winning. I just lost interest. You put in a lot of effort for those sorts of things, a couple of evenings a week and you're not getting results."
Focusing his competitive spirit on karting, then the Mini, and now the single-seater, Rob hasn't forgotten how to keep fit, as he is an avid runner and no stranger to a pedal cycle.
There is no point in having the fastest car on the grid if you slow it down by carrying a couple of extra kilo's, so Rob makes sure that the variable of his body weight in the car is kept to a minimum.
Moving onto his latest winning Formula, the OMS 25 chassis is equipped with a 1.3-litre Suzuki Hayabusa turbocharged engine built by Holeshot Racing on the outskirts of Lisburn.
"We started in 2017 with the car naturally aspirated," Rob said. "We just got a feel for the car, we got to learn it by doing a couple of sprints up here, but we mainly done the hills down at home.
"Then in 2019 we turbocharged it, and we have ran with the turbo ever since through Holeshot Racing. We are just developing it every couple of weekends.
"For every event, we've got data here to go off. The last time we ran in the wet was Craigantlet hillclimb, so we have a map for the wet and we've edited that since Craigantlet, so it's working reasonably well here today.
"We'll get more data today, and we'll play around with it. And the next day in the wet, hopefully it will be a little bit better."
Running the standard carbon fibre chassis with nothing more than the normal aero pack that was designed for the car, Rob has developed and refined the cars set-up to suit a few different circuits as well as softer suspension settings to cope with Irish roads.
Speaking of the Northern Ireland sprint championship, "We picked this championship and did a little bit last year," stated Rob, "Things just went against us with the car and a few other bits and pieces. So this year we are going to make a real effort to complete the championship and get some results.
"Thankfully it's gone well!
"The events up here are superbly run. There is a great consistency, they're all different clubs running events at the same venue, but it is still very consistent. You have a good team of scrutineers, you have a good team in the paddock and on the start-line, and all the marshal's."
Rob continued, "It takes us seven hours to get here in the little truck, it's a good spin like in fairness. But, when you know what you're coming to, it makes all the difference because you're happy enough to come this far and you know what you're going to get.
"You know you're going to get your three time runs. Okay today might be a little different," laughed Rob, "But today is the first wet day we have had all year, it's a bit different."
"The events are run so well up here; it is easy to come up. The standard of cars is higher; the pace is higher up here because the drivers are familiar with the circuits and familiar with their cars. Whereas down at home, on the hills, we might not revisit a venue for a couple of years as the club might use a stretch of road 20 km away the following year, meaning you don't get the consistency."
After a couple of successful years with the new car, which led to winning two consecutive Irish National championships, Rob committed to the 2021 Northern Ireland series. It was a season to forget, but proved useful as a development year for both car and driver.
Heading into the 2022 season, Rob had his cross-hairs firmly locked on a trophy that reigning champion, Alan Cassells, wasn't willing to let go of. A trophy that the likes of Tim Woodside, Stephen Gault and newcomer to the sport, Ethan Faulkner, all wanted a piece of.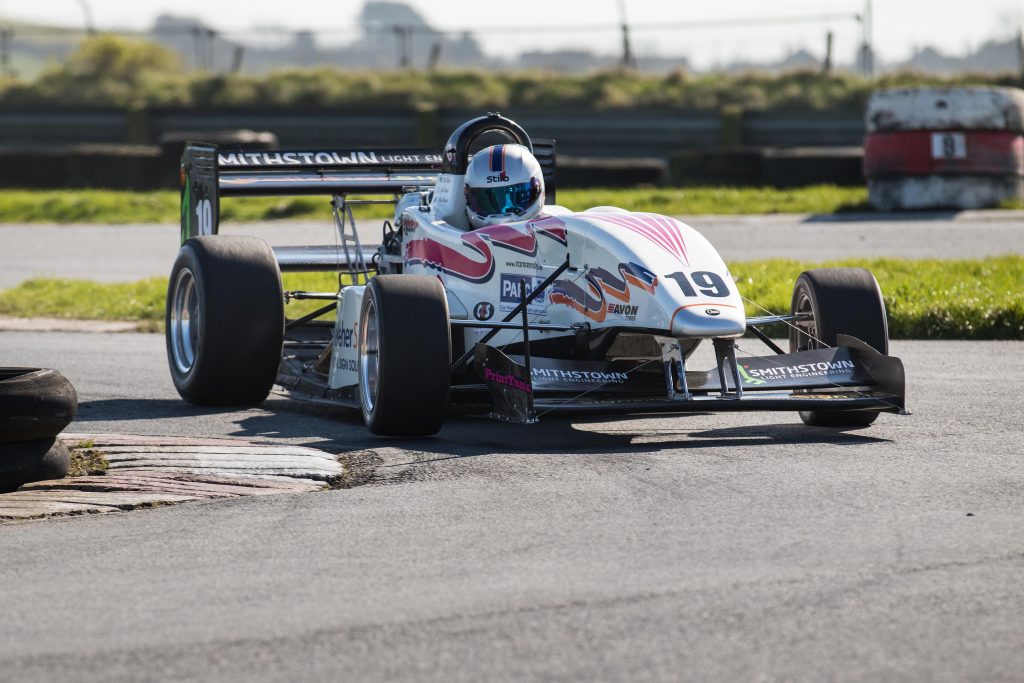 A clean sweep of events ensured Rob Dwane's place in the history books of Northern Ireland Motorsport. "It's just brilliant," exclaimed Dwane. "I have always followed the [NI] sprint championship because it has been so competitive; we have been travelling up here for a good few years even just spectating.
"As a driver, I have had some great battles with the likes of Adrian Pollock for a couple of years, and Mick Roche in his OMS Turbo. And then Alan [Cassells] the last couple of years, it's been great. And to get that box ticked and the championship done, it's a big relief.
"There's a lot of work has went in this year and we had a little bit of trouble with the car here and there, but it's just great to have that box ticked and to have a Northern and a Southern title."
With no plans made as to where he will race next year, I guess it is worth telling you that Rob also has an accolade from Portugal, where he finished second in the under 25 category on the Hillclimb Masters event attended by over 100,000 spectators, which he says was quite an experience and could well attract him next season.
In the meantime you can be sure that Rob will be found on his racing simulator at home, making sure he remains sharp no matter what next season will bring.
Thanks to:
Smithstown Engineering
Holeshot Racing
Avon Tyres
Kellerher Signs
PARC Crash Repairs
CCS Race n' Rally
Print Tank
Pat Roche
Chris Bosonoko