The majority of road users will recognise the name 'Curran' as it graces a fleet of lorries and trailers thanks to Bangor based outfit, D Curran and Sons…
Around the turn of the millennium, the firm's unmistakable yellow, orange and red logo found its way onto a Mitsubishi Evo when owner, Dickie Curran, was finding his feet in rallying.
Around this time, Dickie's son, Mike, was also finding his feet in the sport, albeit in a very different way. He was on his way to being crowned as a World Rally Champion.
Sadly, Mike's name doesn't sit beside the likes of McRae, Burns or Loeb on a trophy. At such a young age, he had never actually started an event, never mind a championship. So having never sat in a rally car, how did this young man from County Down become a world champion?
Like every successful driver, Mike dedicated a lot of his time behind the wheel. Honing his skills and learning from his mistakes, he progressed to the finals of the Sony PlayStation WRC challenge.
Fending off gamers from across the globe, Curran headed to the world championship round Corsica in 2001, with one goal in sight. To be king of the electronic road.
That he did, bringing home not only the simulator within which he won, but also a Tommi Makinen edition Mitsubishi Lancer Evo 6 road car!
Curran was around the kart racing scene from a young age so he was no stranger to knowing what it takes to become a champion driver. The basic skills of which, whilst learnt on racing circuits, transferred perfectly through his PlayStation.
Just two years after his big win, Mike was sitting on the start line of his first ever 'proper' rally. At the helm of a group n Mitsubishi Evo VI, that was most probably bought after he sold the road car which he won, Mike finished 12th overall and fourth in class at the Bishopscourt based event.
Throwing himself in at the deep end, Mike contested most of the Irish Tarmac Championship that year. In 2004, the Bangor man stuck with the same car and did a few English national events, as well as selected rounds of the Northern Ireland Championship.
Progressing into a Mitsubishi Evo VII for the 2005 season, Mike focused on the Irish National Championship. "It was our favourite [championship]," Curran explained. "We won the Group N Championship that year."
With Fabian McShane alongside him for guidance, the winning crew continued working together in 2006 and upgraded to a Mitsubishi Evo IX halfway through a season of selected events throughout Ireland.
A return to the Dunlop Irish National Championship in 2007 saw this pairing crowned Group N champions once again. Mike's season was rounded off at Rally Ireland, where he hustled Chris Atkinson, who was driving a works Group N Subaru.
At this point, apart from a few outings in World Rally Cars on local events, the fat lady sang and he called time on his motorsport exploits.
Whilst keeping fit on his bicycle, the ultra-competitive side of young Curran couldn't keep him away from competition. And, although there was no adrenaline like that experienced with rally, two-wheeled pedal cycle racing certainly filled a void for Mike over the next few years.
Now married and with a young family, the 42-year-old's spare time is understandably limited, but with cycling and running not quite itching the scratch that motorsport left him with, here I am 15 years since I last photographed Mike in a rally car, photographing him in a very different kind of rally car.
Having bought a kart a few years ago, Curran has been able to get on track and take part in practice days, which certainly soothe some of that itch. But it was a chance encounter that has seen him return as King of the Road!
"My wife's cousin invited me to sit alongside his son, Charlie Sims, (12), at a round of the Rallysport Association at Nutt's Corner," Mike said. "Charlie was only 12 years old and competing in the Mini Cup."
"With a roundie-roundie circuit racing background, it was a good opportunity for me to guide Charlie. When we got chatting, his dad suggested that I have a go. So we dual entered which then give Charlie the chance to learn from the passenger seat with me driving, before swapping seats ahead of his run."
"The next day, I went on to Facebook and searched for Mini Coopers for sale. There are zillions of them. So I found one in Belfast, bought it, then stripped it and built it into an RSA Mini Cup Car."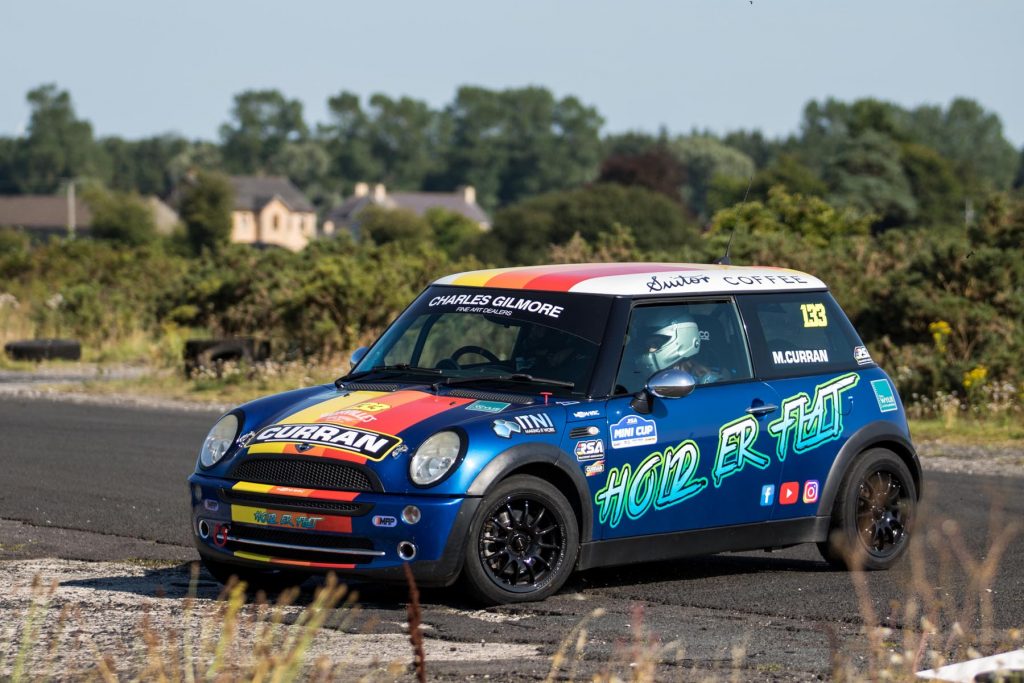 "The car was stripped as much as possible before a roll cage, seats and harnesses were fitted. You are not allowed to touch the engine so everyone in the championship runs the same ECU map."
"The car was converted in something like six weeks and that was it. I had never driven front-wheel drive in anger – I am used to four-wheel drive cars or the rear-wheel drive kart – so I had to learn the car. It is totally different and took a long time to get my head around the braking power of the little Mini as they are so light. You're almost into the corner before you break and my head couldn't cope with that for a while. I was breaking far too early, and then having to accelerate again."
"We gradually became quicker and quicker, and decided to commit to the full Summer Series Championship which started at Aghadowey. We finished second on the first two rounds before blowing the engine on round three."
"A second-hand engine was sourced for £200 and it was fitted ahead of round four but it blew up too. So I sourced all standard internal parts and set about getting an engine built. There was no advantage to this other than knowing the engine had zero miles on it. We went to the next round and the engine blew up again on the first stage. We couldn't understand it!"
"So, once again, we found another cheap engine, put it back in, and it blew up. So that was three engines in a row, and three days were we didn't even complete one stage. We figured out that the only parts not changed were the injectors. It turned out that one of them was faulty and causing terminal engine failure."
"With that problem solved, we went on to win the next five rounds, putting us in a great place for the Mini Cup Championship. The gearbox expired on the final round but thankfully I had done enough earlier in the year to win the Cup."
Curran's exploits were supported by Andrew Armstrong from Streetracer in Bangor, who helped strip out and prepare the car ahead of competition. He also called upon old sponsors to make it happen. They included Echlinville Distillery, Charles Gilmore Galleries, IT-NI, Suitor Coffee, and Glen Montgomery from Hold 'er Flat, who is a close friend and a gaming partner.
The old Faithful yellow orange and red stripes feature prominently, too.
"One of the biggest entries in the championship this year was Shackleton when 30 Minis were out. It was unreal seeing 30 of the same car out competing! It reminded me of the time when the Evo Challenge was in its prime, and this is every bit as competitive."
"These cars run standard suspension and a controlled Toyo tyre," he added. "On the start line, the car sits at less than £4,000. It's the cheapest, most fun motorsport I have ever seen!"