Having dabbled in motorsport, I know the value of minimising weight and maximising power. Turbos get bigger whilst glass becomes lexan and all non-essentials end up in the bin or ebay.
Yet road cars are getting heavier every year, blame it on battery packs or safety regulations but the effect is the same hobbling a car's dynamic ability.
It's no surprise then, that I was attracted to one of the lightest sports cars on the road, the Lotus Exige. Admittedly weighing in at a shade over 1100kg it is heavy compared to the Elise on which it shares much of its DNA, but with a wider track, Evora front end and potent 345bhp supercharged 3.5L V6, it is incredible fun. 
Having just recently sold the Exige I thought it was high time to share my thoughts on what was a truly exciting car.
Figures are for pub chat and forum banter though and tells you nothing about how something actually feels. The Exige's unassisted steering telepathically communicates a smooth road. Camber, crown and ruts are felt directly and at speed that demands attention, but the chassis rewards with instant response to driver input.
The lack of mass, supercharged grunt, and this high bandwidth chassis connection always left me in no doubt that there was a significant breadth of talent in this the series three Exige. On road and track, I always felt more capability in me and the car to explore, even though this was the baby of the range (at the top there's a lighter, madder 430bhp cup car).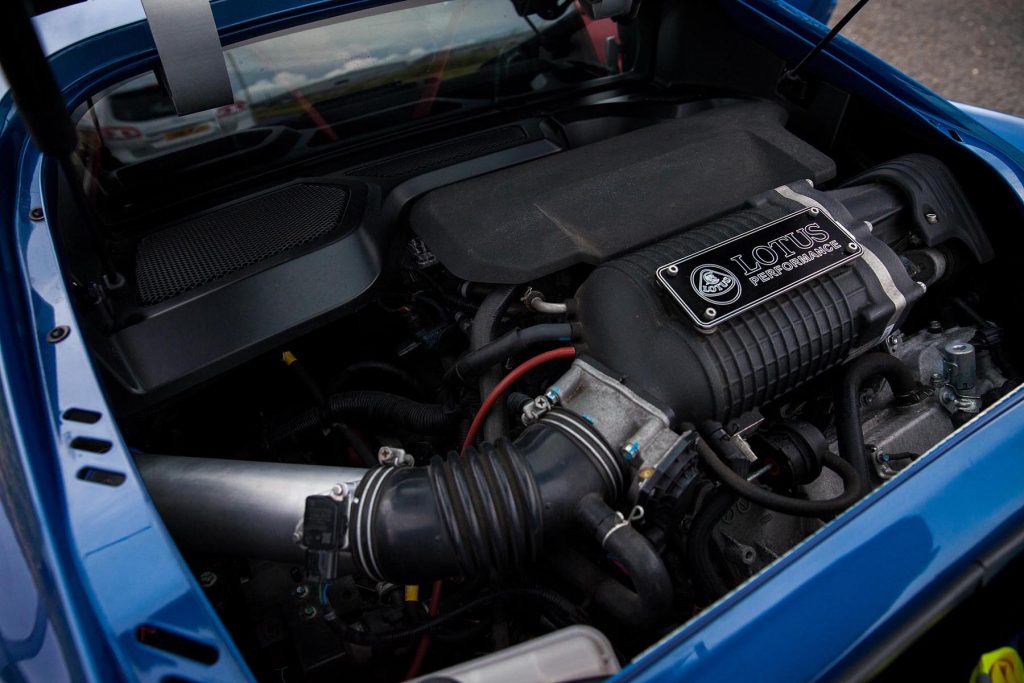 B-roads become an ashen faced blur. A-roads and dual carriageways seem pointless and a waste of the car's talents, although I did commute to work with no issue, cruise control coming in very handy. On circuit and with the right tyre and geometry combination (I swapped to Michelin Cup 2s), predictable, confident and quick laps are very achievable, the four pot AP brakes fitted as standard soaking up 15 minute sessions with no fade on the steel discs.
Unexpectedly the way the car sounded was always remarked upon. The Toyota powerplant plays a sonorous and pleasing vee-six howl, and with an intake kit adding a supercharged whine to the cacophony of sound. Power across the rev range is strong, the charger ensuring flat, responsive power delivery whenever you need it.
In fact the only let down to the power train was the cable shift gearbox, which although on road was perfect, could occasionally suffer poof shifts with heat and high G cornering. The tiny 42l tank didn't last long for track days either, but this was sorted by bringing jerry cans to track, and of course can be alleviated by aftermarket options.
The fact I've come this far and not mentioned the options list; the ergonomics; the luggage capacity. If that's what you're after in a sports car then you will totally miss the point with the Lotus. It's bespoke, small volume feel and all be it small compromises are part of the experience. OK climbing over the large sill plays to the 'old and fat' complaints, but once you are in and Vauxhall key turned (no button push!) there is no better place to be.
Lotus fit and finish, despite still not being the mass production standard of say Porsche, is still a lot better than you might expect. My car was pretty much rattle free, and throughout my ownership had very few issues, with a stuck door lock and exhaust solenoid, both sorted under warranty being the height of it.
Subjectively the series three Exige, I believe, is a great looking car. I couldn't take it anywhere without entering into discussion with strangers or exchanging a thumbs up on the road. Maybe it helps that the clam is manufactured in Lisburn of all places!
And now it's gone. My second Lotus, directly after my Evora. And certainly not my last.
Words: Andy Cooper | www.rmsmotoring.com & Photos: GRAHAM BAALHAM-CURRY
images must not be used in any way without prior written consent of the photographer