Saturday 29 October saw the last round of the championship take place at Kirkistown with the 500MRCI hosting the Halloween Sprint. Walking round the paddock there were a few people who looked as if they had dressed up for Halloween (although on closer inspection it was hard to tell if they had) and a few who maybe should have dressed up. There was even 1 person who arrived by broomstick, and after a very interesting (crash) landing, their broomstick was seen being loaded into a competitor's trailer! I do recall being told once, many years ago when getting flying lessons, that a landing was only a controlled crash!! That's a great thought for you to remember the next time you're coming into land on a plane!!
After having a fabulous season in terms of weather this event was wet. Infact that's an understatement, it bucketed!!! The rain was blowing sideways across the track and we got a full season's worth of rain in the one day. Whilst it made it interesting for the spectators to watch the rain and weather made the driving conditions very difficult.
Practice came and went and there were several spinners. A couple of drivers won figure skating awards for their pirouettes, a few fellas decided to pack up and go as they didn't see any future in the conditions and Conor Hamill had the biggest scare of his motorsport career. Conor lost traction as he approached the finish line and began to spin. He span past the Hairpin Flag marshal post and kept spinning, like a spinning top before stopping about 3 feet from the tyre wall at the hairpin. Conor advised afterwards that all he could think of was that he was going to wreck the M3 which was a minter. Afterwards Conor didn't appear in his race suit unless he was strapped into the car, and he had either bicycle clips or tape around both his ankles so I suspect he had experienced "liquid adrenaline" during his spin. Either way I watched for him on Strictly come prancing that evening on TV but he mustn't have made it there on time!!
At lunchtime a track inspection was completed and with some superb efforts from the marshals with brushes sufficient water was removed form the track to allow timed runs to commence. Conditions like this always separate drivers into 2 categories, those who can drive and those who thought they could drive but found out that they can't.
Stephen Colbert, who was driving Gerard O'Connell's Dallara World Series proved to be the man to beat on his first timed run when he went fastest on a 99.07sec run. Rob Dwane was second on a 99.51 and Gerard O'Connell was third on a 102.45. Stephen Colbert not only proved that he could drive in the wet, but he also proved that he had no idea just how fast he was going when he set the speed traps off at 146mph!! Whilst that doesn't sound that fast here it was clean mad fast in the conditions, and fair play for him to do it. In the second timed runs everyone went faster and Stephen Colbert dropped to a 98.81sec run which saw him finish third, Rob Dwane went second with a 98.05sec run and a 147mph pass of the speed trap and Gerard O`Connell took an amazing last run to win the event with a 97.66sec run which was simply amazing considering the conditions. The spray must have been 6 feet tall behind his car as he came up the back straight!!
Ryan Murray was the fastest dry driver as he pushed his tin top Subaru to 4th overall taking full advantage of his roof and 4wd system to nip ahead of Steven Gault who had neither of Ryan's luxuries by a mere 0.58secs with Alan Cassells 6thoverall in a screaming buggy.
Working down the times there were some epic drives with Stephen Colbert driving the family sunbeam to 12 overall, Dale Singleton taking 13th overall in his fabulous wee rallycross ka, which he told me he was ging to go easy in, Mark Johnston finishing 14th and Dermot O`Hagan 15th on his civic. Also, Ethan Faulkner pulled a flanker of a run to edge Ryan McGimpsey out by 1.74 secs in his first ever run in the wet.
With this being the last round of the year there were still some classes to be decided and some personal battles to be fought on the track but there was a fabulous atmosphere round the paddock and it was great to feel a part of the day.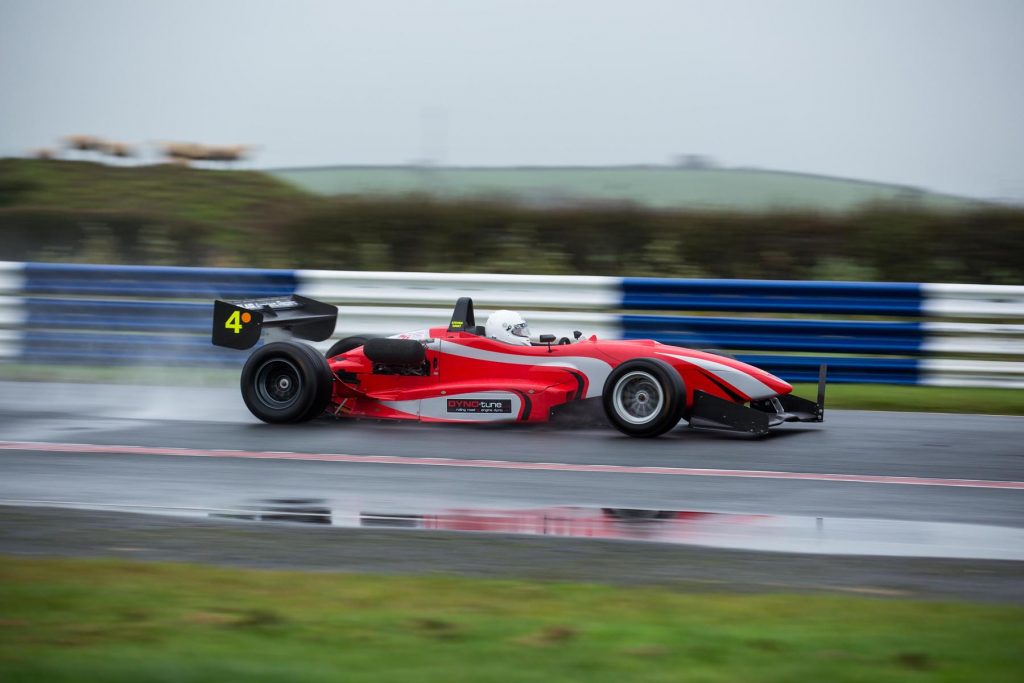 In terms of the Categories, we will start with the Road going category where Aaron Vance took category win from Conor Hamill , third on the day went to Craig Ewing who was flying in the wet in his little Mazda MX5. In terms of the overall category Championship Conor Hamill is provisionally crowned the category winner ahead of Crawford Ewing.
Modified Category honours on the day went to Ryan Murray who used the advantage of his 4wd to finish 4th overall and ahead of Daniel Campbell and Stephen Colbert. Interestingly the top 3 modified men all finished within he top 12 which is impressive for the weather. In terms of the championship, again provisionally Dan Campbell did enough to be crowned this years Modified Champion ahead of Ryan Murray and Stephen Colbert. This years modified title was close with only 4 points separating the top 3.
In the specialist Category Jim Hutchinson was again the man to beat but sadly he was also the only specialist category driver out. Jim however didn't rest on his laurels and still drove flat out finishing 8th overall and he was the fastest overall in first practice. When I asked him about being fastest overall in the rain Jim replied, "what rain???" In terms of the specialist category Jim has provisionally been crowned the Specialist Category winner ahead of Scott McMullan and Andy Hawthorne
In the Heaslip Ladies Challenge Emma Campbell took the win at the last event ahead of Amy Hawthorne and Kathy McDade. Sheryl had done enough at the previous round to provisionally win the category by 1 point from Emma Campbell Kathy McDade was third just ahead of Amy Hawthorne. Again, the Heaslip Ladies Challenge Trophy has been a tightly fought out trophy.
In the most hotly contested Category of fastest mini in the west Gerry McGarrity took the title as no one else in a mini turned up. Karl Johnston was marshalling this event and Gary Milligan doesn't like to get up in the mornings until there's daylight outside so he didn't venture to Kirkistown. So not only was Gerry the fastest mini in the west at this event he has proven that he is the fastest mini in the wet this season!!
Overall then Rob Dwane provisionally wins the 2022 SW Adair Tyres Northern Ireland Sprint Championship ahead of Tim Woodside and Steven Gault. 2022 has been a fabulous season and as always, the craic and the camaraderie amongst the paddock has been second to none.
A massive shout of thanks must go out to all the organising clubs who organised our events. To all the marshals, official's timekeepers, rescue, and medical crews who officiated at all our events. Without you all no event would be possible and we salute you all.
Lastly the biggest thank you goes out to all the competitors who participated and made the championship happen thank you all.
*At present all the results are still provisional due to an appeal being lodged by a competitor which has delayed the finalising of the championship points.
Words: DAVID EVANS #154 | Photos: GRAHAM BAALHAM-CURRY