Aerospace engineer, Iain Leinster, has been involved in motorsport since he was a child. The 35-year-old Derry/Londonderry man followed in his father's wheel tracks and has enjoyed more than 30 years of motorsport, driving an array of single-seater and hillclimb machinery. 
He spoke to Graham Baalham-Curry and revealed a little bit more, "The car was bought in 1995 at Wilson's auction, Dad was itching to buy something, and this rolled up. His friend said "Is that not quick enough or you?" and Dad said "It's got a V8 in it, sure we'll have it!" the hammer went down and that's how we ended up with a Triumph TR7.
"It was never right. The brakes weren't right, the carbs weren't right, and so it lay in the corner for a while before Dad and I stripped it all down, having some crazy plans for it. But then we moved house, different things happened and Dad started a new business, so it was always sort of put on the back burner."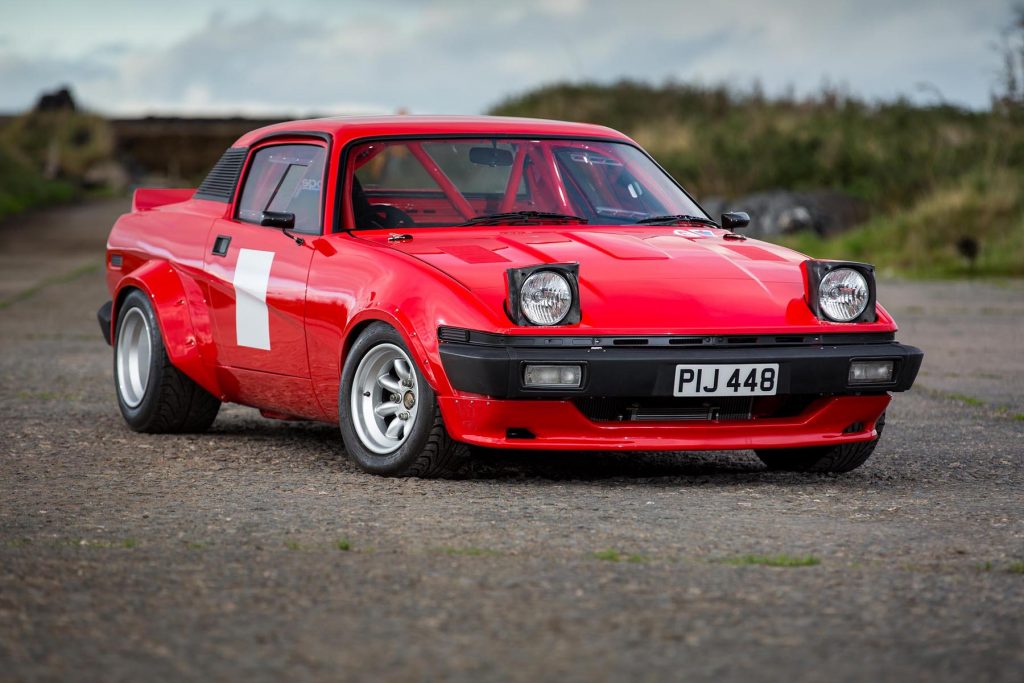 The TR7 made its way to a rally preparation chaps premises in Donemana, where it sat for ten years. Iain's father, John, sadly passed away in 2007 and in 2012 Iain decided the time was right to save what was now a very sentimental heirloom.
The car was transported into the capable hands of Stephen Wishart, the renowned fabricator, whose barn it lay in for another while. But it wasn't long until Wishart got his head around the mental ideas that were rushing through the youthful Leinster's mind, and he agreed to take on the titanic build.
Iain knew from the start that he wasn't willing to put a Rover V8 engine back into the car, as to get it to a state of tune to be in any way competitive, would cost an arm and a leg. Knowing that fitting a modern engine that is equipped with proper power out-of-the-box as being the only way forward, things soon got very out of hand!
Most normal folk would suggest fitting a high-revving, four-cylinder engine, paired to a 5-speed manual gearbox, but Iain is an engineer, and we all know that they like to over-complicate things. So much so in fact, that the initial plan for this car was to run a 4.4-litre BMW V8 engine with two turbochargers attached.
"Stephen [Wishart] made the dreams come true," Iain commented, "His fabrications skills are second to none, and between Wishart Motorsport Fabrication and Richard Grattan from Grattan Fabrication, Loughbrickland who helped finish the car, the dream really has come true on it and they have been the men who have done the head scratching, working out, and beautiful fabrication.
"I can't take any credit as such for it, as it's their blood, sweat and tears which have made it happen. I had given Stephen a 4.4 twin-turbo engine at the start, but it became too complicated and with not enough room to make it all work, it was sold off to keep the TR7 simple."
Running his own racing cars for the last number of years, Iain is very capable and hands-on, so he did screw the TR7 together himself, which he has thoroughly enjoyed doing, but it's like anything, you need a break from it.
"Sometimes things don't always work out and you need some head-space. Then you can go back to it full of enthusiasm again," recalls Iain, "It's been on the long finger for quite a while, as you can see it's been in the family for over 25 years, but I can see where it's going now which is nice, I can see light at the end of the tunnel."
The 'Heirloom Hooligan' as it is aptly named, started out as a fun toy, but as the build started to progress, Leinster soon realised how much it was all costing. I'd imagine it's eye watering. In hindsight, when starting to build it Iain was maybe a bit naive and should have looked at various regulations.
Hillclimb regulations set out that when you introduce an engine-swap, you crossbreed a car, which in turn means it goes into a Libre class which is pretty brutal. Being up against the likes of Gerard [O'Connell] in his RSR Escort or Davy [Francis] in the rear-wheel-drive Cosworth, means that this hooligan will need to be driven at eleven-tenths.
I am pretty confident I was instrumental with Iain touching base with Wishart way back at the start, so I have been following the build very closely via a blog Iain keeps of its progress on RMS Motoring's online forum.
Iain explains, "An M5 engine was always going to be the plan, but the 6-speed Tractive sequential gearbox wasn't. In 1995, and even up to the mid-2000's, a sequential 'box would have been something that was quite exotic. It's worked out much nicer that I've taken the time over it, I've waited years on this build and it's been worth waiting on."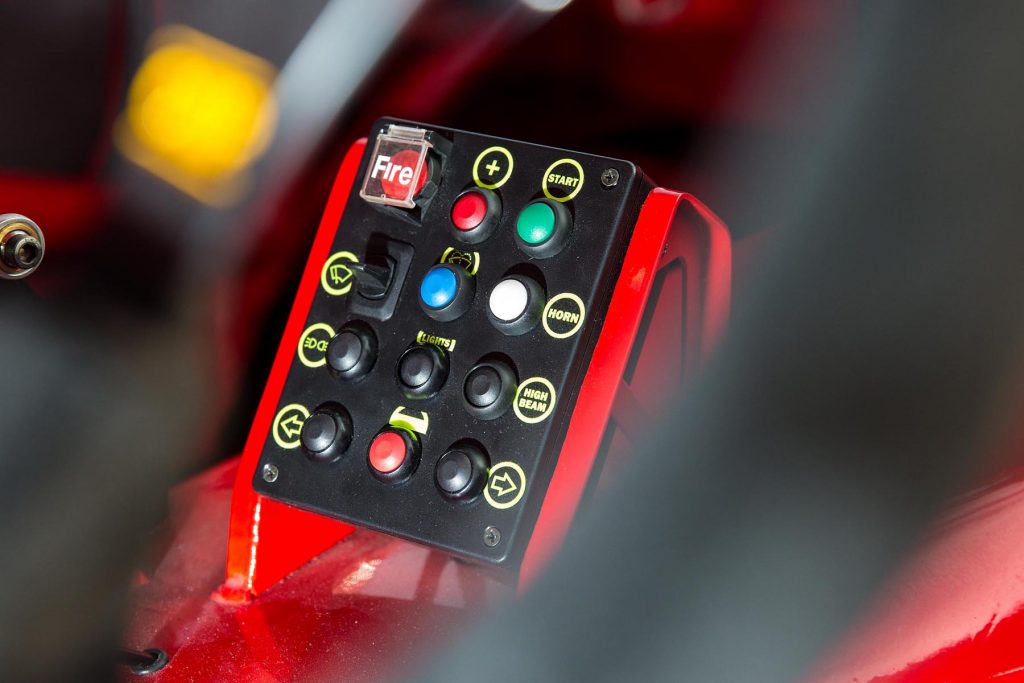 "The engine is the larger capacity S62 V8, it's a 5-litre that was sourced from a 2001, E39 BMW M5 that happened to have a major off at Debtors Dip, Kirkistown at a track day. It's 400bhp in factory trim, but the standard manifolds and cats are very restrictive. I have removed the variable valve timing and I'm now running Schrick Racing Cams, allowing us to manually set and adjust the timing rather than the engine management doing it."
These engines came from Bavaria with performance in mind as they already run individual throttle bodies, but now running on link management, with a bespoke non-restrictive exhaust, this Triumphant power-plant is pushing around 455bhp.
Iain dry-sumped the engine, allowing it to sit much lower and further back into the car. Its power-to-weight equates to 465hp/ton with 373lbft of torque on tap. No matter if Iain is using his Avon slicks (11.5" rear / 9" front) or Pirelli wets; flat shift with auto blip, traction control, and launch control will all prove useful when used via the Link ECU.
Running a Ford Capri rear axle, the wheelbase has been stretched 7-inches, so the axle has moved 4-inches further back and the front sub frame has been shifted 3-inches forward. This should greatly improve the stability of what was once a very short-wheel-base car.
Running a 3.7 Tran-X plated differential, the axle is a semi-floating Group 1 Ford Atlas with Quaife up-rated shafts and semi-floating hubs. The Triumphs rear suspension is 6-linked with a chassis mounted watts linkage.
Stopping the TR7 isn't difficult due to its 6-pot calipers up front from a Jade race car, which were found in the parts bin at Mike Johnston's. These put perfect pressure on the 280mm, 2-piece front discs with aluminium bells. Sierra Cosworth rear calipers are a heavy choice, but as they maintain a cable handbrake, they keep the car road legal, so are most definitely the right choice.
Amazingly, despite the monumental amount of fabrication and re-building, the car is still very much a tin-top. It probably would have been easier to space-frame the front end and fit a fibreglass nose, but by doing things the hard way, Iain can enjoy a Sunday drive in the TR7, as it's fully road legal.
"Nothing has been standard, everything has had to have some form of modification," Iain states, "It's been a real labour of love. There have been parts borrowed from here and there, but nothing that hasn't been untouched. Even a tubular front cross-member had to be manufactured by Wishart to improve the engine fitment and its location.
"Things ground to an almost halt when the pandemic hit, but thankfully Andy up at WJ Blair Accident Repairs in Ballyclare was able to work alone on it when the insurance work dried up due to lockdown. He spent a week getting the wheel arches to fit, never mind the rest of the preparation and painting."
Once painted, Iain spent a fair chunk of lockdown putting the various pieces of the puzzle together. The father of three saying, "The biggest struggle with this project was relying on other people, but having now spent so much time on it myself, I appreciate why things have taken as long as they have."
"It is so bespoke, that everyone has needed a break from it at some point along the way, me included. I fully understand and appreciate that now, now that I have worked on it. The car is so well thought out, it's an impeccable build, it's nearly too good to get a stone chip on, but it was built for one purpose only and will be used in anger."
The penultimate piece of the puzzle was wiring, and once that was complete the car went to Robbie, at TDP.ie in Wicklow for a full electronic configuration, mapping and to extract the motorsport features that the ECU offers.
Words and Photos: GRAHAM BAALHAM-CURRY
[Images must not be used in any way without prior written consent of the photographer]