MG cars today, could not be further removed from the cars we fell in love with decades ago, but what they lack in pedigree today, is more than made up for with value for money.
MG of old was no stranger to some sporting prowess with the likes of the Metro GTi or the Maestro Turbo and in the early 00's the MG ZR was no stranger to the closed road stages of rallying.
Looking back a little further, you have the likes of the MGB GT V8, which can still be found in historic racing today. It is the MG Midget however, that will stick in everybody's head as the height of the British brand.
A small two-seat sports car whose production ran from 1927 until 1979, the last models of which are still winning various motorsport events to this very day, albeit in a guise fettled much more than the factory ever intended.
The British car maker was sold to China in 2006, with the current model range being built by Chinese state owned automotive design and manufacturing company, SAIC Motor Corporation Limited.
So what does MG offer us, the road user, today? Value for money is the biggest selling point for MG, alongside a 7-year, 80,000 mile warranty, and an acceptable amount of equipment as standard.
All sporting knowledge from the past has been left there however, and with a limited range of low powered petrol engines, you can expect nothing more than an unexciting driving experience.
As someone who is not a badge snob and, who's most recent acquisition was a 16-year old Ford that stood me a mere £400, I am fond of great value and I can see the attraction of what MG offer.
In this article we drive the MG ZS, with prices starting from £12,995 (in 'Explore' trim), it comes to market around £5,000 cheaper than entry level rivals such as the Hyundai Kona, the seat Arona, or the Renault Captur.
It's fair to say that you won't have the range of trim levels, nor a vast array of engines, and neither will you have a plethora of plush materials inside, nor the general spec.
For me though, £5,000 is a serious amount of money and the saving of that amount is definitely worth investigating, especially when you consider that your warranty is almost double that of many rivals within this compact crossover segment.
As standard the MG ZS comes equipped with all the basic safety amenities you need as well as ISOFIX rear seating points, cloth upholstery, bi-function automatic projection headlights, LED daytime running lights, electrically adjustable door mirrors, remote central locking, cruise control, front and rear electric windows, and a radio with auxiliary input and Bluetooth connection.
An 'Excite' trim starts from £14,495 and adds front fog lights, follow me home headlights, rear parking sensors, silver roof rails, 17-inch alloy wheels, air conditioning, leather steering wheel, DAB radio, and an 8-inch colour touch screen with Apple CarPlay.
As tested and photographed, an 'Exclusive' trim starts from £16,295 and adds 17-inch diamond-cut alloy wheels, leather effect upholstery with contrasting stitching, a six speaker audio system with 3D sound and sat-nav, and a rear parking camera.
Add the metallic 'Dynamic Red' paint seen on this car, along with an automatic gearbox and the price for this model tested is £18,990.
There is a simple choice of two petrol engines for the MG ZS. A 1.5-litre, 4-cylinder engine produces 106ps which see's 0-62mph in 10.9 seconds, with a top speed of 109mph and a return of just over 40mpg. This engine is only available with a 5-speed manual gearbox.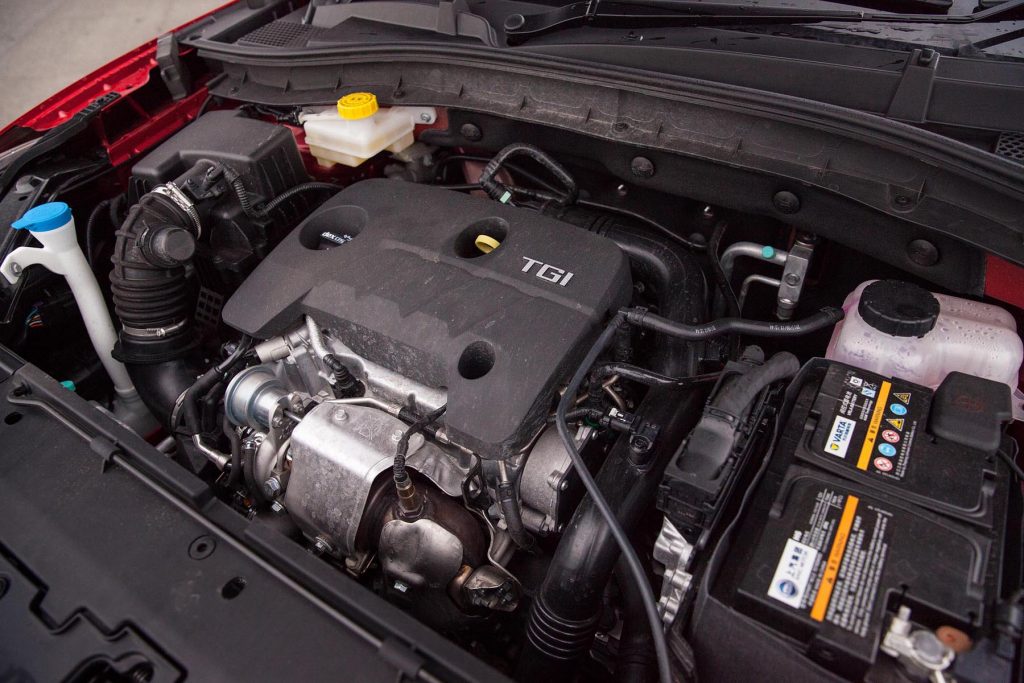 For those who prefer an automatic 'box, the 6-speed auto is paired to a 1-litre, 3-cylinder engine producing 111ps which will see 0-62mph in 12.4 seconds with a top speed of 112mph and a return of a bit over 35mpg.
For what it is, I feel that this MG looks pretty good from the outside, the addition of rear privacy glass would definitely aid it looks, post-purchase. The boot offers reasonable space for a small family or a couple of holiday bags for a short break and inside the cabin isn't quite as utilitarian as I expected, which is a good thing.
A carbon fibre effect on materials used around the dash detracts from the fact that they are cheaper materials than seen on other brands. The fake leather upholstery isn't horrendous either, though it would definitely benefit from heated seating.
The touchscreen infotainment hub is surprisingly simple and easy to use with a decent reversing camera and even steering wheel controls.
With noticeable body roll, the driving experience is just what you would expect from a car so affordable. The MG does what it says on the tin and for someone looking nothing more than a reliable A to B car, it's adequate.
Fitted with the 1-litre turbocharged petrol engine, this model tested is ideal around town or for doing the school run, with its light steering and reasonably nippy power delivery.
An all-electric version of the ZS is available from £25,495 (after plug-in car grant) and offers a range of around 160 miles.
If you're in need of a vehicle which looks good and do not require too many frills, don't let the limited dealer network put you off having a look at the affordable entry level range of MG today.
Fact File for model tested
Make : MG
Model : ZS
Trim : Exclusive
Engine : 1-litre turbocharged petrol
Gearbox : 6-speed automatic
Cost : £18,990
Words & Photos: GRAHAM BAALHAM-CURRY
images must not be used in any way without prior written consent of the photographer