The Vauxhall Corsa is the UK's best-selling new car so far this year, according to the latest new car sales and registration figures released today (June 4) by the Society of Motor Manufacturers and Traders.
With 20,024 registered in the first five months of 2021, the new Corsa range is proving highly popular. The all-electric Corsa-e, which I wish to talk about in this article has been the best-selling new electric car in the 'small battery electric vehicle sector' this year, with 2,204 registered.
Current Vauxhall Store pricing (at time of writing) for the Corsa equipped with a petrol engine, ranges from £15,615 to £24,250 on the road.
Pricing of the all-electric Corsa-e, as tested, ranges from £22,360 to £26,545 on the road. Manufacturers RRP is much greater than these current prices, so if you feel you could be on the market for an electric Corsa, now would be a good time to pursue that purchase.
With three trims available on the all-electric Corsa, £22,360 will get you an 'SE Nav Premium' which features a 7-inch colour touchscreen with satellite navigation, Apple CarPlay and Android Auto, 16-inch alloy wheels, electronic climate control, LED headlights, rear parking sensors, and lane departure warning with lane keep assist.
Priced from £24,390 is a 'SRi Nav Premium' which adds 17-inch bi-colour alloy wheels, sports front seats, sports front and rear body styling, and a black roof. The model tested and pictured, an 'Elite Nav Premium' is priced from £26,545 and adds a 10-inch colour touchscreen, panoramic rear view camera, keyless entry and start, front parking sensors, and heated front seats.
Trim dependent, you have the choice of up to 7 paint colours, and with just one synchronous electric motor running across the EV range, choosing the model best suited to you and signing on the dotted line could not be simpler.
The 50kWh Lithium-Ion battery, paired to a 100kW electric motor produces 136PS with 260Nm of torque meaning the Corsa-e is no slouch with a 0-60mph dash achievable in 7.6 seconds with a top speed of 93mph. Now that Vauxhall are under the French PSA Group of manufacturers, the underpinnings of the latest Corsa are shared with the Peugeot 208.
Inside the cabin is still very much Vauxhall though, with only the infotainment and gear selection lever being the obvious borrowings from the Peugeot parts shelf. Selectable Drive mode allows you to switch between Eco, Normal and Sport, varying the power delivery and range between each, as you would expect.
Finished in 'Voltaic Blue' (£550 option) this test car is hard to miss with a huge metallic finish within the paint making it very eye-catching and also allowing it to contrast perfectly against the gloss black roof.
Back inside and the seating is surprisingly supportive, it is also adequately comfortable for a long commute. ISOFIX child seat mounting points feature on both rear outermost seats as well as the passenger seat which is very convenient.
Driving wise the model tested went very well indeed, as do most electric vehicles to be fair. The Michelin tyres gripping incredibly well with a super-smooth power delivery from the electric motor, the Corsa-e handled a rather hasty roundabout lap better than I could have imagined.
However, carrying up to half a tonne more on its curb weight than its internal combustion engine siblings due to the battery, I found that the Corsa-e didn't inspire confidence when trundling down very bumpy country roads at the national speed limit.
Refuelling an EV is all-new to me and when it comes to rapid charging points in Northern Ireland, there are around a dozen at present. Many of them situated midway to a destination, rather than being at an end destination.
This country is not big and I for one do not wish, nor plan to stop at a service station for half an hour to top-up a battery. The infrastructure here really needs investment to provide EV users visiting popular destinations a suitable means to top-up more affordable EV's, like the Corsa-e, that doesn't have a long range battery.
Vauxhall claim a range of up to 209 miles, but during my week with the Corsa-e I couldn't get more than 140 miles in the real-world. This is not a criticism of this particular car though, as having had a few electric vehicles now, it seems that to get a real-world guide to the vehicles range, you can deduct 40-60 miles from the manufacturers claim.
For my family and me, the Corsa-e offers everything required as a second vehicle, if I was able to charge it at home. That is a very big if, however.
From reading guidelines regarding the plug-in car grant and fitment of a home charging socket, it looks like I probably wouldn't be able to install one due to communal land between where the car is parked and the wall socket.
This issue, combined with potential owners who only have access to on-street parking and for countless people living in rental accommodation, makes a move to full electrification difficult for many. During my time with the Corsa-e it became very apparent that you should only own an electric vehicle if you have full control over its refuelling.
The public charging network, in Northern Ireland especially, cannot be relied upon as I have found out over the course of three weeks, with three different electric vehicles. A lack of suitably placed rapid chargers means that many people are now forced to stay on slower charges for a half a day, which aggravates those who have owned electric vehicles from their inception.
Despite my strong feeling that an affordable electric vehicle needs to offer a minimum of 250 real-world miles, range anxiety in the Corsa isn't really a thing, assuming you have a suitable means to plug it in at home. You also need to be quite tech-savvy to download and use various apps required to operate lots of different public chargers.
I'll be the first to put my hands up and confess that I have avoided all things electric until they land on my doorstep. My time with a Peugeot 2008 during a lockdown was fine, my time with this Corsa taught me a hell of a lot, which I am thankful for.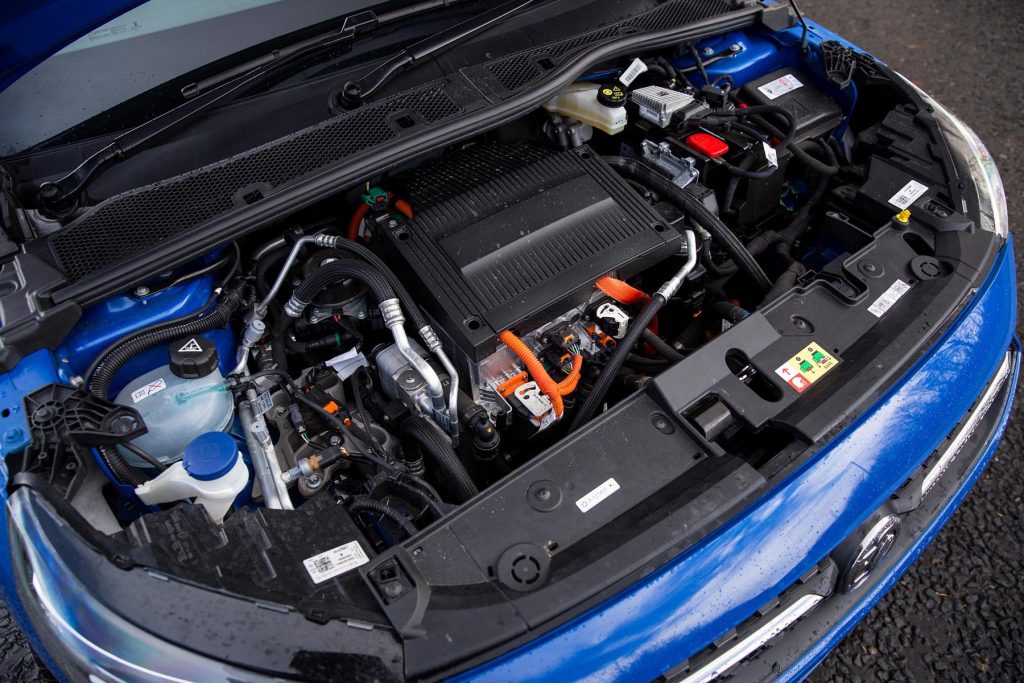 Off the back of my learning, I must apologise to the Vauxhall UK Press Office for some of my perhaps unfair commentary during my week with the Corsa-e. I took a vast amount of charge frustration out on the car, rather than the network which failed me.
The car itself is great and as said earlier, it's keenly priced (today) against rivals such as the Nissan Leaf or the Renault Zoe. Corsa-e's range is reflected with its more affordable pricing and as technology develops, I can only assume that longer range will be available in the coming years without an extra £10,000 added to the price tag.
A full charge from empty on a 7kW domestic wall box at home is achievable in 7 hours 30-minutes. On a couple of different public chargers that I accessed during my week, the Corsa-e seemed to add approximately 25 miles per hour of charge. I live an hour from any rapid chargers, so can't comment on what range they can add locally.
Vauxhall offer an 8 years/100,000 miles/70% capacity battery warranty. The Corsa-e should be first serviced at 8,000 miles/1 year with intervals of 16,000 miles/2 years thereafter.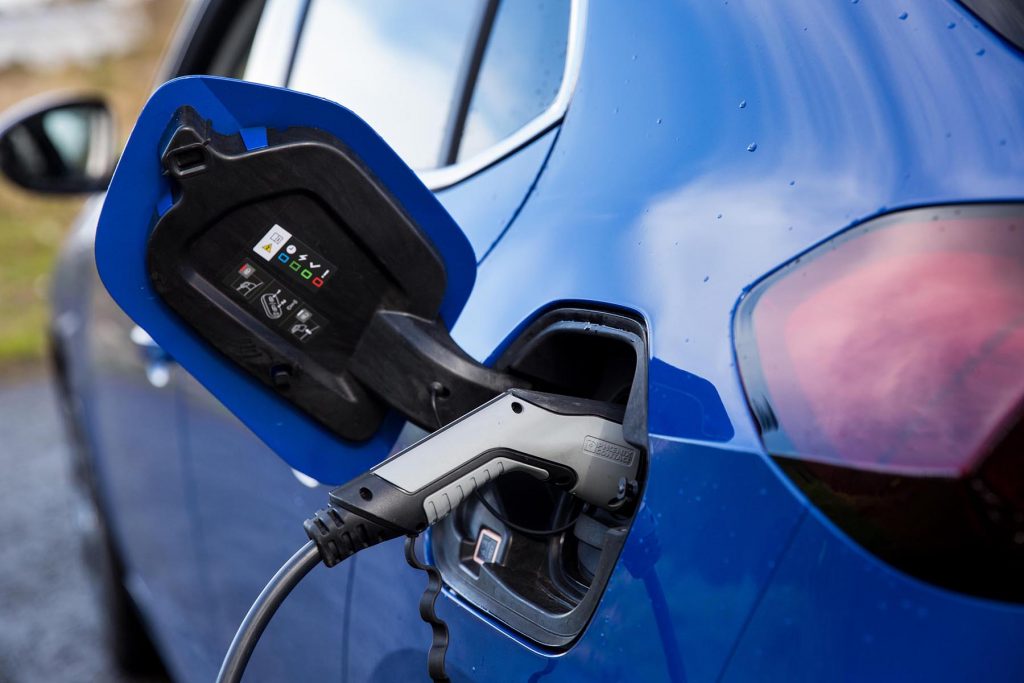 Fact File for model tested
Make : Vauxhall
Model : Corsa-e
Trim : Elite Nav
Engine : 100kW synchronous electric motor
Gearbox : automatic
Cost : £27,095
Words & Photos: GRAHAM BAALHAM-CURRY
images must not be used in any way without prior written consent of the photographer