Excellent, close racing was the order of the day at the 500 Motor Racing Club of Ireland's race meeting at Kirkistown on Saturday.
Two major trophies were up for grabs, The Martin Donnelly Trophy for Formula Ford 1600 and The Emerson Fittipaldi Trophy for Formula Vee.
However, the day kicked off with a combined race for Saloons and GTs. There was great anticipation because, for the first time this year in the GT class, Dungiven driver, Gerard O'Connell's Escort had a genuine rival in the shape of Belfast's Ian Leinster, in his MG Midget.
From the start, O'Connell took the lead, but not by much. Leinster was on the case.  In the Saloons, Stephen Traub took a lead he would not lose.  On lap 2, it began to rain.  By lap 3 it was very heavy for a field that were all on slick tyres.  Never the less, Leinster broke the lap record for GTs, with an average speed of 92.764 m.p.h!  Nutt's Corner driver, Donal O'Neill, spun out of second place in the Saloons at Colonial 2, dropping to sixth.  On lap 5, Leinster got past O'Connell, only to be repassed again one lap later.  Unfortunately, Leinster spun into the barriers on the next lap, retiring.  O'Connel went on to win, despite having a lurid spin exiting Colonial 2.  O'Neill had worked his way back to third in the Saloons, behind Aghagallon driver, Peter Baxter, when he spun again at Colonial 1, dropping back to sixth.  In the GTs, the final result was O'Connel first ahead of Dungannon's Gareth Thompson, in an MGB GT V8.  Traub won the Saloons, ahead of Baxter, Newry's Hugh McEvoy, in a Renault Clio Cup machine, Derry's Gavin Kilkey in a BMW and O'Neill.
Next up were the Formula Vees. Eighteen cars lined up. Tinahely driver, Jack Byrrne, took the lead at the start before Dublin's Gavin Buckley took over on lap 3. He would go on to win, while Byrne got involved in a dog fight for second place involving Donal Downey, from Naas, Anthony Cross, from Bohernabreena, and Jordan Kelly, from Buncrana. Kelly eventually finished second. Cross was third. Byrne dropped to fourth. Fifth was Philip Sheane, from Wicklow and sixth was Karl O'Sullivan, from Dublin.
The combined Fiestas and Mazda MX5 race saw 20 cars start. It was red flagged on lap one after a Fiesta barging match at Colonial 1 left Strangford driver, Megan Campbell's car severely damaged and pointing the wrong way on the circuit.
At the restart, Randalstown's Paul Sheridan took his MX5 into the lead, although he was harried all the way by Ballyhalbert's David Cousins.  Carrickmacross driver, Robert Kennedy and Tandragee driver, Stephen Murray, both started from the pit lane in their MX5s.  In the Fiestas, Belfast's Mark Stewart relieved his brother, Paul, of the lead on lap one and was never headed again, although there was a train of four cars, nose to tail, all the way to the end.  On lap seven, Cousin's MX5 ground to a halt.  However, this did not give Sheridan a breather as Kennedy had come through the pack to second place and was applying pressure.  Sheridan held on to win by 0.333 seconds.  Murray was third, Jim Kennedy, Robert's father, was fourth.  In the Fiestas, Mark Stewart won.  Keith Dawson was second.  Neville Anderson was third.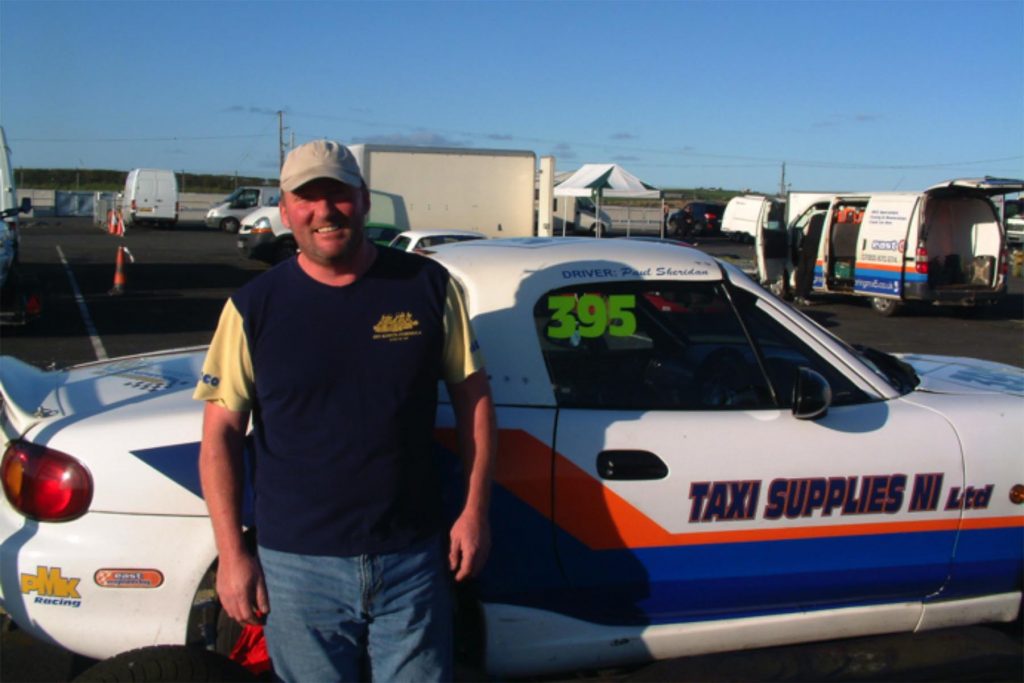 The first Roadsports race saw the debut of Niall Fitzsimmons, from Crossgar, in his Radical Prosport. He shot into the lead at the start, while Holywood's John Benson got a terrible start in his Crosslé 37S, dropping to sixth. Bangor's Cameron Boyd briefly held second in his GMA Seven, before being passed by Welling's Steve Morris in his Crosslé 42S on lap three. One lap later, Morris was demoted by a charging Benson. Kieron Smyth, from Moira, was flying in his Stevenson Rocket and he, too, passed Boyd on lap five. At the finish it was Fitzsimmons from Benson. Smyth got up to third ahead of Boyd, who passed Morris on the final lap.
In the Global Light class, which was run at the same time, Jack Finlay, from Carrickfergus won. Conor May, from Celbridge, was second and Gary Mitchell, from Fishburn took third place.
The first Legends race was the usual slipstreaming festival and it was fittingly won by a man who is a legend, in cars, karts and on motorbikes, Dundrod's Ivor "The Driver" Greenwood. Second was Geoff Richardson, from Dublin and third was Peter Barrible, from Swords.
The Martin Donnelly Trophy was to be awarded to the driver who had the best result over the two NI FF1600 Championship races.  In the first of these, The Randalstown Rocket, Alan Davidson, grabbed the lead at the start, with Ballymena's David McCullough in very close pursuit.  These two pulled away from Omagh's Adrian Pollock in third place.  Dave Parks, from Ballina, started at the back because he got no qualifying times due to a faulty transponder.  On lap three, McCullough got past Davidson and had one hand on the trophy that he won last year.  Davidson did not give up but McCullough slowly eeked out a gap.  Meanwhile, on lap four, a charging Parks passed Pollock for third.  In the melee, Pollock fell behind Antrim's Drew Stewart.  A race long battle was going on for sixth place between Ballyclare's Andrew Blair, Ballina's Robbie Parks and Carrickmacross driver Trevor Delaney.  At the finish, it was settled in favour of Delaney.
The second Saloons and GT race restarted racing after a very short lunch break. Amazingly, Ian Leinster's pit crew had made the necessary repairs to get the Midget race worthy again. It wasn't pretty but it was functional. Leinster rewarded their hard work with a lights-to-flag victory over Gerard O'Connell. Gareth Thompson was third, a lap down.
In the saloons, Stephen Traub started at the back. Peter Baxter led from the start from Hugh McEvoy. By lap two, Traub had passed McEvoy. Donal O'Neill had had a major excursion at the Crosslé Chicane on lap one, dropping to seventh. On lap five Traub passed Baxter for the lead. O'Neill passed Derry driver, Gavin Kilkey for fourth. On lap nine, O'Neill got past McEvoy to secure third place.
Next was the Big One for the Formula Vees, the Emerson Fittipaldi Trophy. From the start, two drivers, Jack Byrne and current holder, Anthony Cross, were inseparable. Byrne led first before Cross took over, only to lose out again a lap later. Meanwhile Philip Sheane was emerging from a five way battle that included himself, Gavin Buckley, Mark Reid, J-B Farrell and Jordan Kelly. On lap nine Cross made the deciding pass on Byrne and a lap later, Sheane also passed him. That was the order of the finishing three. Kelly took fourth from Buckley on the last lap and Farrell rounded out the top six. So it was that Anthony Cross retained the famous trophy for a further year.
The second outing for the Fiestas and Mazda MX5s saw a repeat of race one, with Mark Stewart taking the win in Fiestas from Keith Dawson, with Neville Anderson third.  Paul Stewart was a long way back in fourth, while returning ex-champion Jonny Forsythe was fifth ahead of Megan Campbell in her repaired car.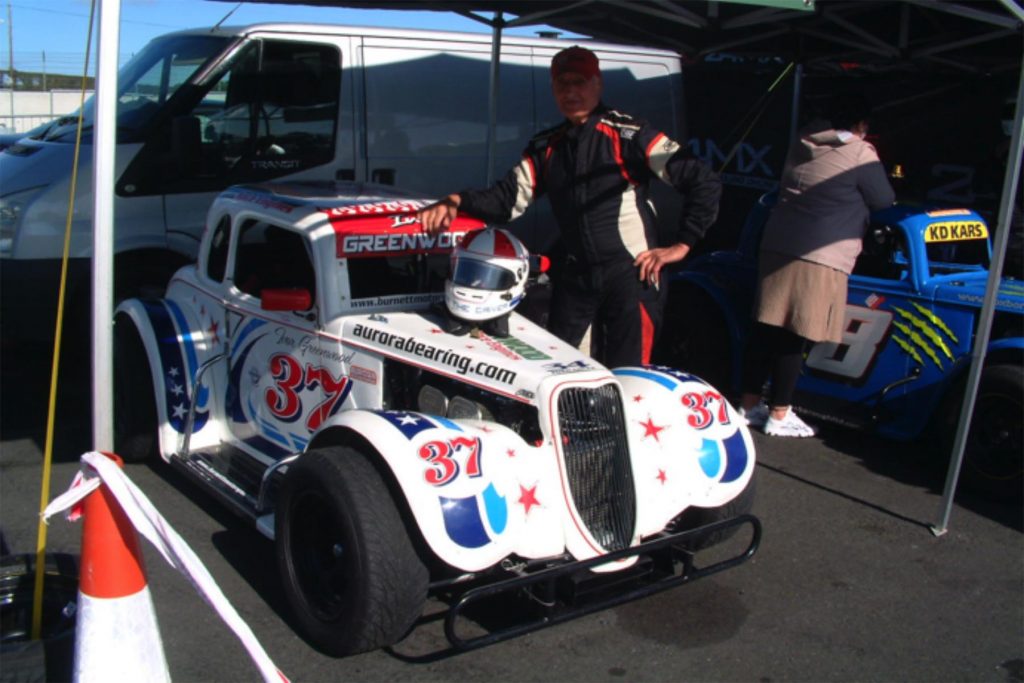 The Mazdas were more fraught. At the start, pole man, Jim Kennedy fell to fifth, while his son, Robert, shot into the lead. On lap two, David Cousins demoted him, while Paul Sheridan, who had started fifth, was closing in. On lap three Sheridan passed Rob Kennedy. A lap later, Cousin's car was developing an intermittent electrical problem and Kennedy took the lead again. Sheridan was now his main pursuer, with the lead swapping on numerous occasions before Sheridan missed a gear exiting Maguire's Hairpin. At the finish, the gap between the two was just 1.8 seconds. Cousins managed to hold on to third, just over three seconds ahead of Stephen Murray. Jim Kennedy was fifth.
The second outing for the Legends saw a very tight battle between Jamie Moylan, from Naas, and Geoff Richardson. At the finish Moylan prevailed but only by 0.397 seconds! Ivor Greenwood was third.
The second Roadsports and Global Lights race saw John Benson take the lead from Steve Morris on lap one. On lap two Niall Fitzsimmons demoted Morris and set off after Benson. Meanwhile, Kieron Smyth, who had made a slow start, passed Cameron Boyd and Greg Elliot on lap one to chase after the leading trio. On lap eight, Fitzsimmons squeezed passed Benson for a lead he would not lose. On lap twelve, Smyth passed Morris to take his second third place of the day. Boyd finished fifth ahead of Elliot.
In the Global Lights, Jack Finlay took another win, ahead of Gary Mitchell and Dublin driver, Ray McKenna.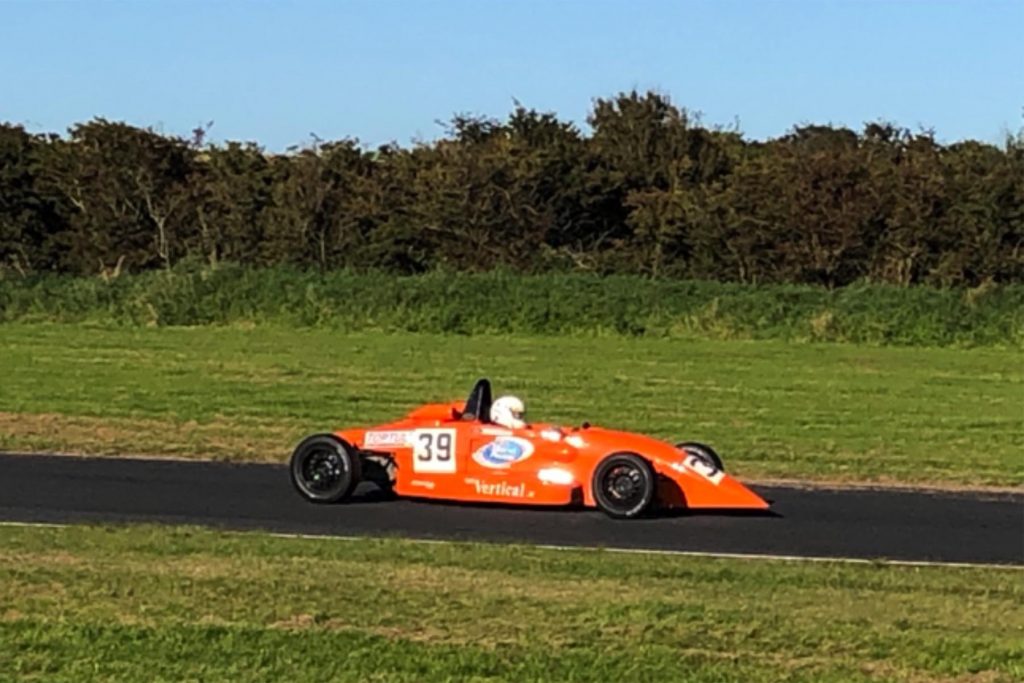 The second N.I. FF 1600 race would decide The Martin Donnelly Trophy. David McCullough was the favourite because to lose it, Alan Davidson would have to beat him by 3.706 seconds. David Parks was the only other driver with a chance and he would have to finish over 8.231 seconds ahead of McCullough to take the trophy home to Ballina. From the start, Davidson went off like a hare but McCullough was right on his gearbox. Parks was, once again, starting from last place. Adrian Pollock was in third place but no threat to the leading two. On lap four McCullough out braked Davidson for the lead. Davidson tried to come back, making some heroic moves at the Colonial Complex but it was to no avail. McCullough established a small but decisive gap, which allowed him not to have to drive defensively. On lap eight, Parks relieved Pollock of third place. Although he was catching the leading duo, there were not enough laps left to make a difference. Pollock held on to fourth. Drew Stewart was fifth and Andrew Blair, who was driving brilliantly, took sixth. Thus, the current holder, David McCullough, retained the second major trophy.
The third Legends race closed the day.  It was a cracker! Jamie Moylan took another win from Geoff Richardson.  This time the gap was even smaller than in the second race.  Richardson was a scant 0.014 seconds behind!  A long way back came third place driver, Gordon Brown, from Dublin.
Words and photos: DONAL O'NEILL | 500MRCI
images must not be used in any way without prior written consent of the photographer