Comprehensively better than a Golf GTi.
It's click bait cliché of course, but it's also the slice of the hot hatch market segment that Hyundai want, deservedly so in this case. Buy into the N brand today, maybe you'll have a Tucson or Kona Electric accompaniment on the drive tomorrow.
We've tested the i30N at launch at Kirkistown Race Circuit back in 2018 thanks to Daly's Garage, Belfast, and we loved how fun it was to drive on and off circuit. Namyang have been busy in the interim, this, the home of the N-division research and development centre, and where the 'N' itself comes from. A wet clutch DCT was developed for the i30N, and for the UK market, the base model was dropped so all new cars are the 280bhp performance variant.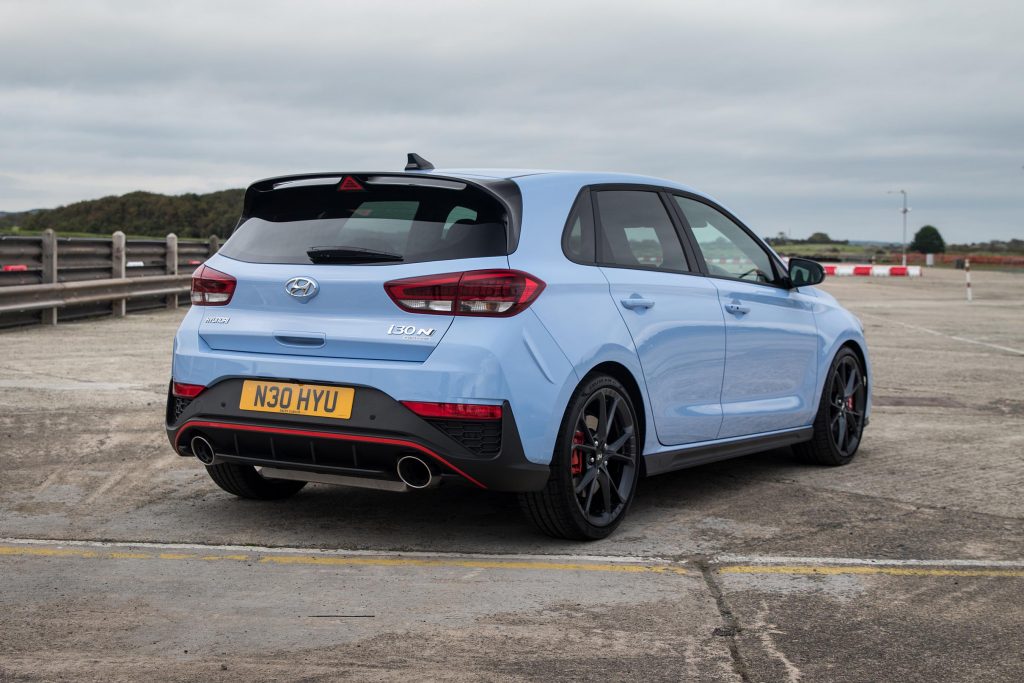 A two-pedal hot hatch always raises eyebrows and expectations; thankfully the auto box is well matched to the i30N's existing talents of being on-its-toes and matching its eager character. Ratios keep the 2-litre turbocharged motor in the hot end of the power band when making rapid progress, but also broaden the scope for more relaxed commuting and dealing with traffic. This only adds to the appeal of an already well rounded hatchback, which already is maturing well thanks to other lifecycle updates.
Our test car here (again thanks to Daly's Garage, but this time at Bishopscourt racing Circuit) is in Performance blue, now synonymous with the N brand, and although styling is still fairly understated, the new anthracite 19-inch rims are a smart addition to the package. However with the i30N it's all about how it drives, and with the fast-shifting DCT the 60mph dash is despatched in well under six seconds, and of course quicker than the manual.
This is where great performance comes with a plethora of initially confusing but effective power control options. First up, a steering wheel mounted button for N-Grin Shift or NGS. This gives up to 20 seconds of max boost, sharpest throttle response and lowest gear. Presumably for overtakes, but you also get exhaust crackles on gear-shifts. Then there's NPS, N Power Shift, which means no torque limiting between gears.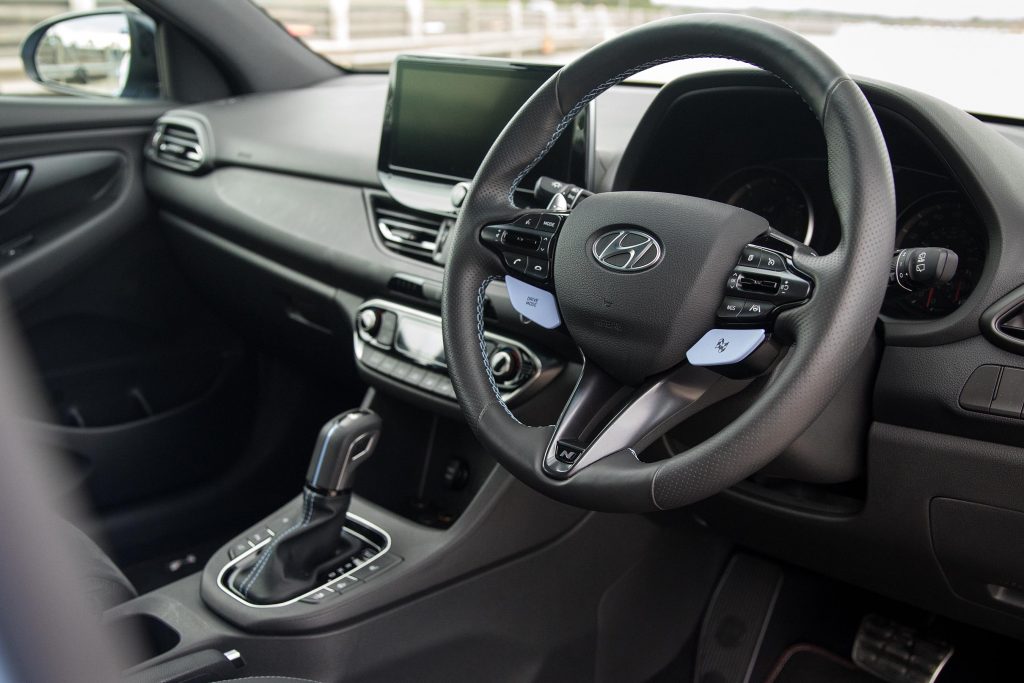 There's a lot of fun to be had with these modes, but dive into the infotainment system and there's a whole world of configurability, along with the N modes that I would have needed the car for another week to review alone. Several different levels of aggression of the front e-Diff for example. No doubt configurations generate pages of forum discussions and great fun for an owner to try out.
The good news is the basic car is capable and well resolved, and that patience to get the right options will pay off in greater ability, rather than the configuration plastering over shortcomings.
Inside and the part optional N bucket seats were supportive, and also added some drama to what is otherwise a straightforward and feature laden cabin with their illuminated N logo. A manual handbrake is a nice touch although as you can see dash and binnacle are plastic based with leather stitching few and far between.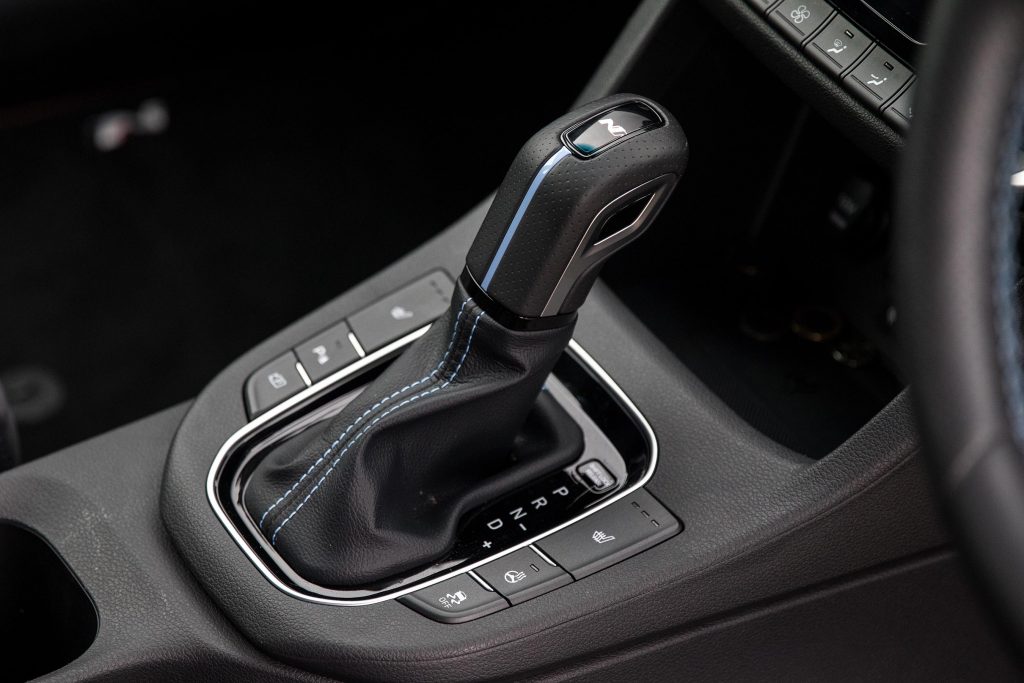 It's immensely practical as is the car it's based on, with both reasonable room for two adults in the rear and around 400-litres boot space, not to mention 60/40 split folding rear seats if you need to move bigger stuff fast.
You'd be envious of those N-Sports seats sitting in the back though for sure!
Overall then, this is another carefully placed and well executed step for the i30N, with the addition of an auto only increasing the appeal of an already appealing hot hatchback.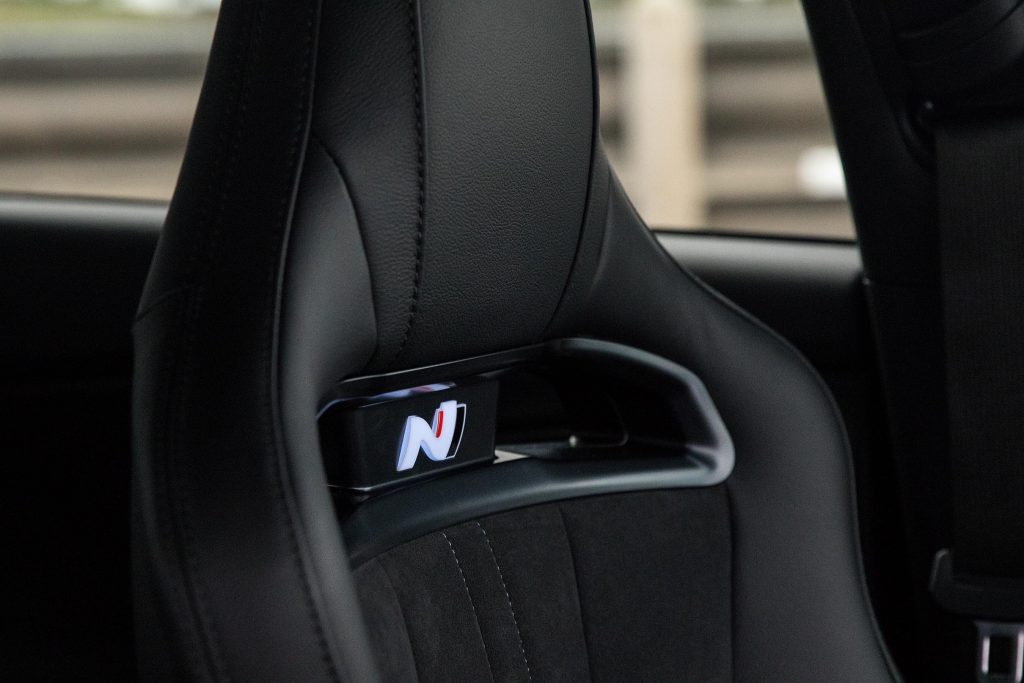 Fact File for model tested
Make : Hyundai
Model : i30
Trim : N Performance
Engine : 2-litre turbocharged petrol
Gearbox : 8-speed automatic
Cost : £36,280
Words: ANDY COOPER / RMS MOTORING | Photos: GRAHAM BAALHAM-CURRY
Images must not be used in any way without prior written consent of the photographer