As someone who is knocking on the doors of 40 years of age, when the mention of a hot hatch is brought to the table, I automatically reminisce about the Peugeot 205 GTI, Volkswagen's Golf GTi and Vauxhall's Nova GSI.
These hot hatch glory days lived into the noughties with Citroen's Saxo VTS, Honda's Civic Type R and Renault's Clio 172 Cup, with all of the aforementioned offering a raw driving experience best enjoyed at 11/10ths.
All of them proved their worth between the rally stages and racing circuits around the world, be it as a clubman road-going specification, or a purpose built rally car by the manufacturer's motorsport wing.
Roll forward a decade and you get a plethora of turbocharged hot hatches such as the Ford Fiesta ST, Citroen's DS3, or the Mini Cooper S that do everything so perfectly, they almost lost the spirit of what a hot hatch is about.
Now into the current decade, these cars' larger siblings, pushing 300bhp, are now regarded as a hot hatches, leaving what I regard as a hot hatch being referred to as a warm hatch.
Today's fire-breathing hot hatches can be enjoyed at a fraction of 1/10, are large enough to cope as a sole family vehicle, and can be a little boring to drive as they are so well perfected. Which to me detracts from the intended purpose of a hot hatch.
So what should a hot hatch be? It should be what it always was!
That is, a car small enough that makes it almost impractical for family life. A car that stands out from the crowd, making young drivers look in awe as something they would aspire to own. And a car that is somewhat affordable.
But most importantly, a car that needs driven in a manner that will only ever stand the hairs on your neck. Welcome to the Hyundai i20N. Brought to you, via me, thanks to Daly's Garage, Belfast.
Thanks to a global motorsport campaign for the last number of years, including a hugely successful world rally team, the Korean manufacturer's motorsport 'N' division combined their knowledge from various aspects of racing to create a road going hooligan called the i30N around 5 years ago.
This car received a thumbs up around the world and was recently facelifted with the addition of a dual-clutch automatic transmission. With such acclaim on its first attempt of at a sporting road car, expectations for the baby of the fleet, the all-new i20N, were exceedingly high.
It doesn't disappoint!
Priced from £25,250 the i20N's styling is sharp and aggressive. Its front splitter, side skirts, and rear diffuser all accentuated with red detail. A purposeful roof spoiler lets you know that this is the sportiest of the range, whilst the red detailing continues behind the 18-inch wheels with red brakes featuring the N logo.
Like most cars on the road today, the i20N is only available as a 5-door, making it more practical than any of its hot hatch ancestors. Finished in Polar White, the upper half of this test car is finished in gloss black, which contrasts perfectly against the paintwork and ties in with the satin graphite wheels beautifully.
With front and rear parking sensors fitted as standard, parallel parking could not be easier thanks to a reversing camera which also comes on this model as standard. There are an abundance of other driving aids fitted as standard, which I can't cram into this article.
Inside, a 10.25-inch touchscreen is the home of infotainment which features all the usual audio inputs as well as DAB radio. But most importantly, this screen allows you to fully customise and tailor the N mode driving settings.
A heated steering wheel features alongside heated front sports seats, which feature exclusive to the N, blue stitching and details, as well as N logo on the fixed headrests. The leather steering wheel also receives this stitching as well as blue N buttons to control the various performance modes available.
The i20N's driving position is absolutely spot-on and the cabin offers enough room for four adults to commute comfortably. A week-long road trip for a young family is even achievable, as there is a surprising amount of rear cabin space and a boot that offers more capacity than you would think.
Shoehorned under the bonnet of the i20N is Hyundai's 1.6-litre, 4-cylinder, turbocharged petrol engine. Producing 204ps and a maximum of 275Nm, it is the perfect heart for this pocket rocket, propelling it to 62mph from a standing start, in just 6.2 seconds.
Featuring one of the best power-to-weight ratios in its class, this firmly sprung hot hatch proves to be very harsh on its suspension compression over very bumpy roads. Best to keep your false teeth in the cup holder, with your sports bra firmly fastened.
On everything but the harshest of terrain, the i20N is just perfect though.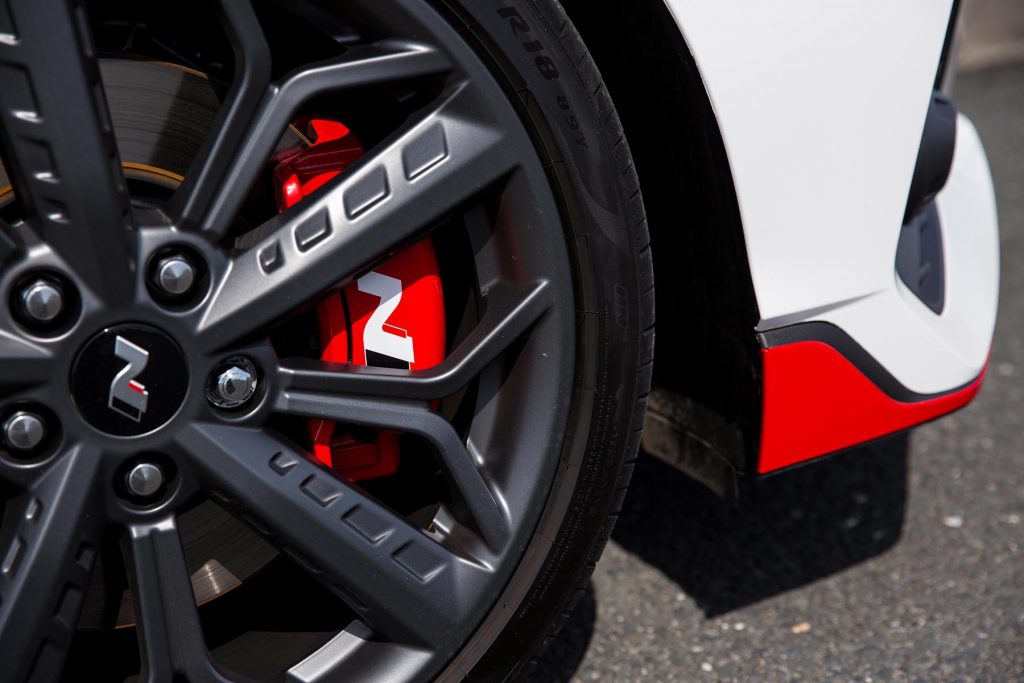 Its cornering ability sensational, thanks not only to its Pirelli P Zero tyres, but mostly thanks to its mechanical limited-slip differential. Now, I have driven a few front-wheel-drive cars fitted with an LSD and quite frankly, they are absolutely horrible for normal daily driving, especially the latest Fiesta ST. 
However, Hyundai's N Division have clearly put serious R&D into to the equipment fitted to the i20N as its driving mannerisms are sublime when not in a hurry, yet when you need to get round, and out of a roundabout or corner with great haste, the differential bites hard and places you in the right direction with mind-blowing grip.
The engines mid-range torque is nothing short of surprising, making it a very suitable commuter car. Yet, when heading towards the rev limiter, it appreciates your efforts and reacts in kind.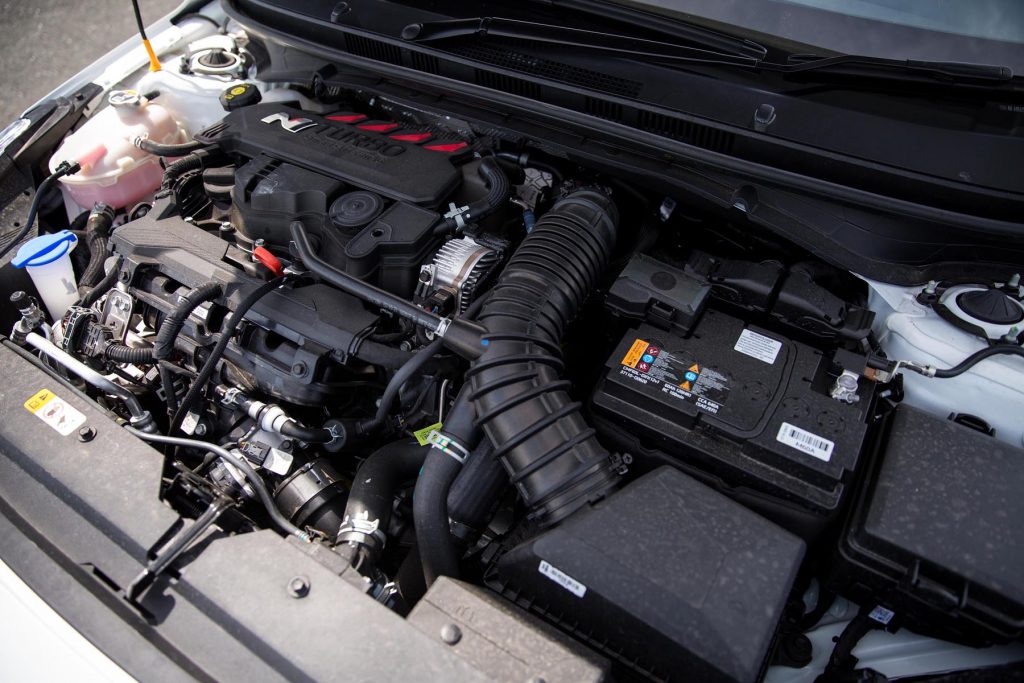 The Hyundai i20N offers a modern twist on the back-to-basics hot hatch appeal and is a true driver's car. I'd have one on the driveway tomorrow if I was given the chance.
This multi-award winning car is so good in fact, that a friend who came down to see the car and get taken for a good drive in it, ordered one a few days later from the also multi-award winning Daly's Garage.
Hyundai offer a 5-year unlimited mileage warranty, with annual servicing required.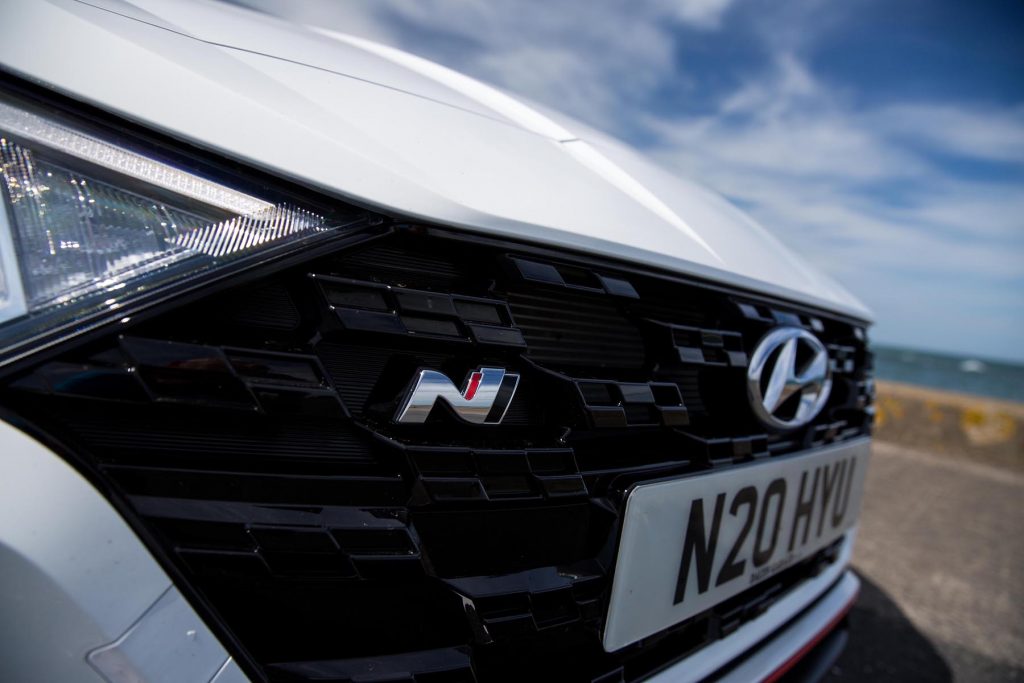 Fact File for model tested:
Make : Hyundai
Model : i20
Trim : N
Engine : 1.6-litre turbocharged petrol
Gearbox : 6-speed manual
Cost : £26,050.00
Words and Photos: GRAHAM BAALHAM-CURRY
[Images must not be used in any way without prior written consent of the photographer]