A bumper crowd of spectators were treated to a wonderful day's racing at Kirkistown Race Circuit on Saturday 28th August 2021.
Alongside a packed 500 Motor Racing Club of Ireland racing programme of superkarts, saloons, fiesta's, roadsports and formula Ford's, the popular BOSS Ireland series paid a visit to Ireland's fastest racing circuit.
These Big Open Single Seater racing cars were what many of the extra spectators had come to see and hear. Thirteen of these rocket ships took to the grid for two races, one of them, the Leinster Trophy.
Unfortunately, Hilltown driver and Kirkistown expert, Tony Greenan, could not rectify an electrical fault in his Radical SR8 and was not able to take up his fifth place on the grid. By their nature, these cars are delicate thoroughbreds and reliability is always an issue.
Pole setter, Paul O'Connell, from Crecora and driving a Dallara GP2, initially fell behind Ballyvaughan driver, Sylvie Mullins, in his Gould GR37 but by the end of the first lap he was in the lead and pulling away. Collon's Aaron Gaughran, driving a Dallara F317, moved into second place. Mullins passed him again on lap five before retiring with mechanical issues.
Dungiven's Gerard O'Connell, driving a Dallara World Series, initially dropped behind Michael Roche, from New Ross, driving a Dallara F306, but retook fourth place on lap 3, which became third when Mullins retired. On lap 7 he passed Gaughran for second before he, too, retired.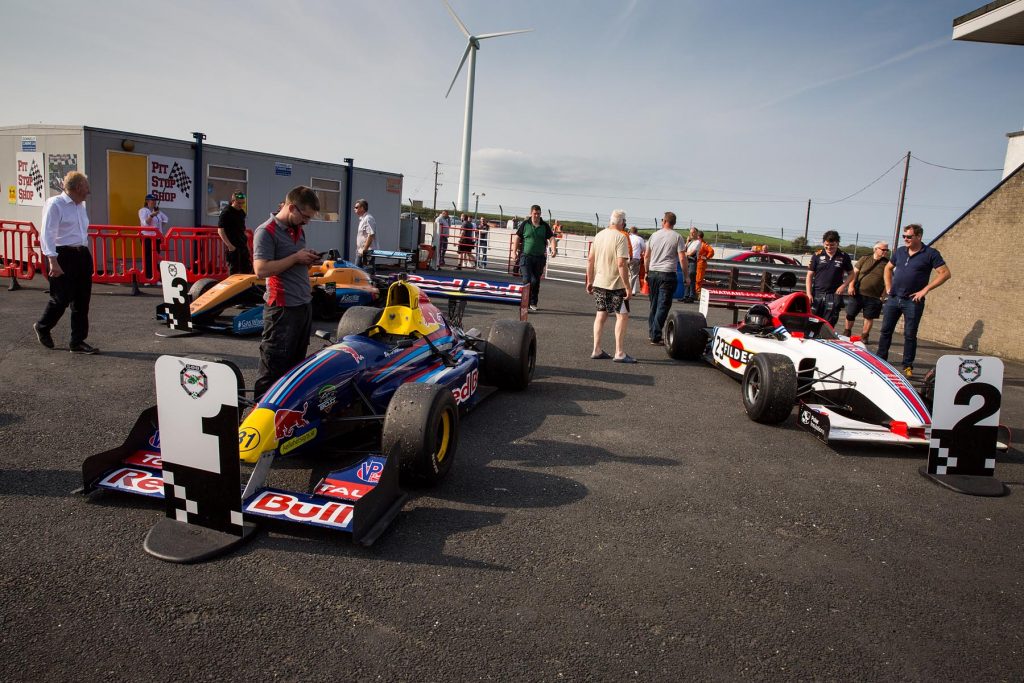 From that point onwards the race became an exciting speed and noise spectacle with little further passing moves. At the end Paul O'Connell won by 32 seconds from Aaron Gaughran. Michael Roche was a further 13 seconds behind. These were the only three on the same lap.
Now, many of these men would give everything to have their name on the same trophy as the likes of F1 World Champions Mike Hawthorn, Ayrton Senna and Mika Hakkinen. Other names on the same trophy include Ulster's five-time Grand Prix winner, John Watson (twice!), F1 team owner Eddie Jordan, F1 Grand Prix regular, Maurício Gugelmin, former F1 driver and founder of the RML Group, Ray Mallock, and double Le Mans 24 Hours winner, J.J. Lehto.
Finally, another name to note on this trophy is the man who Michael Schumacher named as one of the two drivers who inspired him most (the other was Ayrton Senna), Vincenzo Sospiri.
The silverware in question being The Leinster Trophy, a prize which was up for grabs during the second of the BOSS Ireland races, and for only the second time ever, being raced for in Northern Ireland.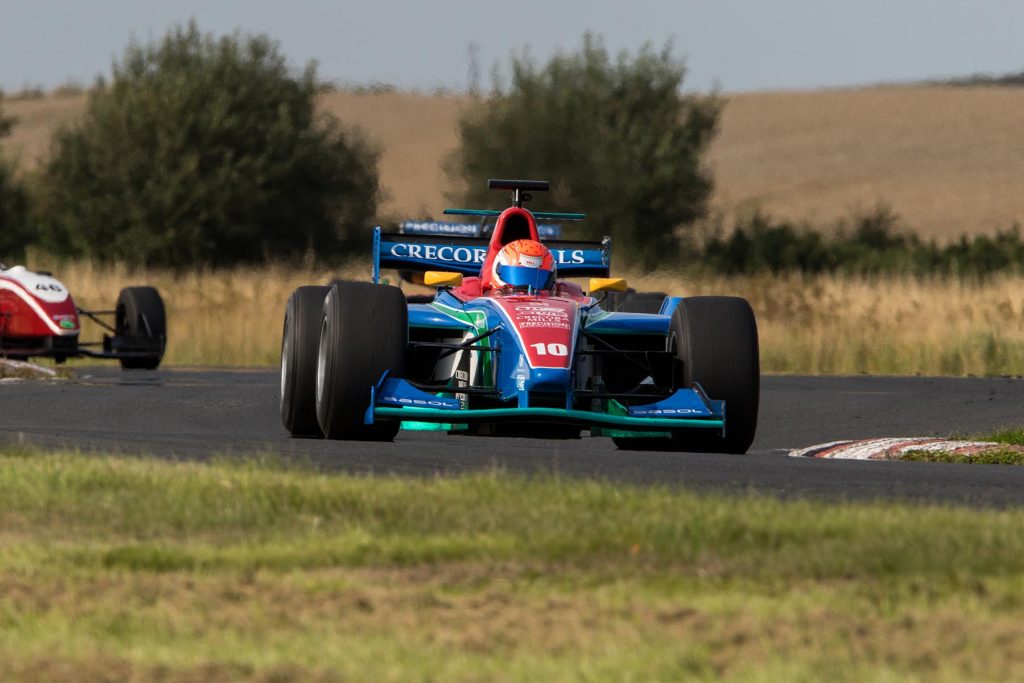 Here's how the drama unfolded in the 'big race' under the watchful eye of North Down's former F1 ace, Eddie Irvine.
Once again, thirteen of these rocket ships took the start. Sylvie Mullins initially took the lead from Paul O'Connell. Aaron Gaughran slotted into third position.
Unfortunately, Gerard O'Connell's Dallara expired. Jonathan Fildes' team had worked hard on his Lola since the first race but the Dunshaughlin driver had to start from the pit lane. On lap 3, O'Connell passed Mullins and began to pull away at around one second per lap. By lap 6, Fildes had got his Lola up to fourth place.
On lap 11 he was disputing third place with Aaron Gaughran. This battle continued until lap 16, when he finally made the pass stick and he was now third. Meanwhile O'Connell had increased his lead to around 15 seconds but he was still pushing hard. It was probably too hot a day for it but the lap record was, at least, a long shot.
On lap 20, O'Connell accelerated slightly too hard on the exit of Maguire's Hairpin and the car spun, not hitting anything but finishing its pirouette parked in the centre of the track, at right angles to oncoming traffic, with the engine stalled. Double waved yellow flags were shown on the entrance and mid-corner but cars were still having to make some frightening moves to avoid the stricken Dallara.
One lap later, the red flags were out and the race was over.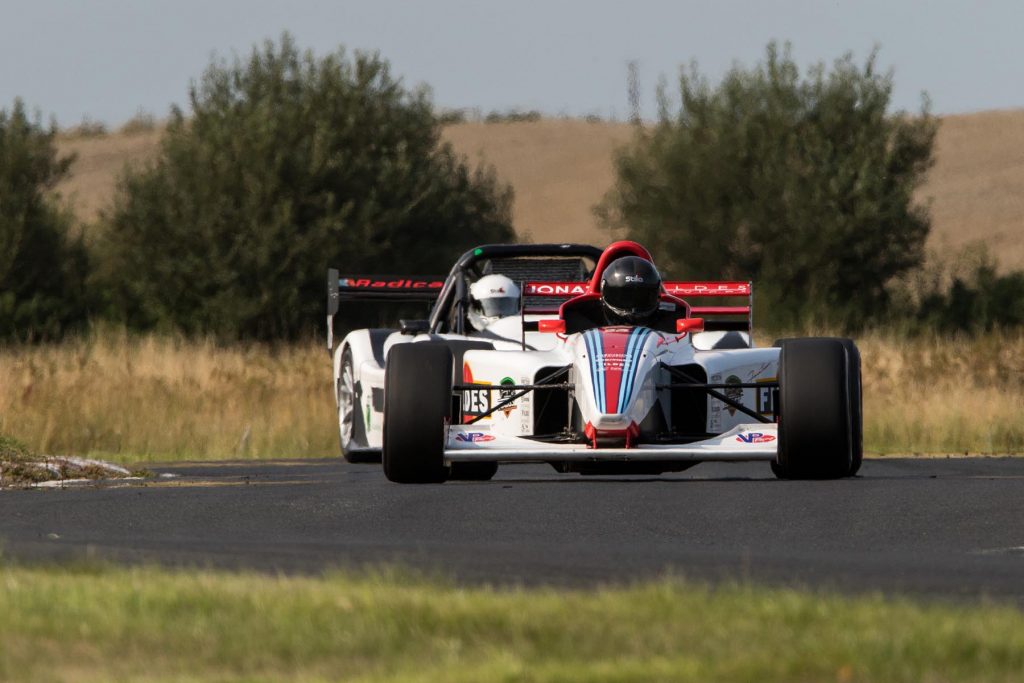 The winner of The Leinster Trophy was a delighted Sylvie Mullins in his Gould GR37. This was probably the first time anywhere in the World, and most definitely in Ireland, that a Hill Climb car has won a motor race!
Second place, after an amazing recovery drive, was Jonathan Fildes in his Lola T96/50. Third place went to Aaron Gaughran in his Dallara F317.
When asked after the race what had happened, Paul O'Connell was totally magnanimous in defeat. He said that he just pushed too hard and made a mistake. However, he was massively pleased that Sylvie had won, saying that because the amount of work that Sylvie and his team had put into the Gould to make it a racing car, they deserved every ounce of their success.
The next event at Kirkistown will be another gem, with The Martin Donnelly Trophy for Formula Ford 1600s and the Emerson Fittipaldy Trophy for Formula Vees being awarded. Both of these classes may not have the speed or noise of the big BOSS cars but the actual racing will be spectacular. There will also be Formula Sheanes on the bill as well as Superkarts, Saloons and GTs, Mazdas, Fiestas and Roadsports. It all takes place on Saturday 25th September 2021.
Don't miss it!
Words: DONAL O'NEILL / 500 MRCI Photos: GRAHAM BAALHAM-CURRY
Images must not be used in any way without prior written consent of the photographer