An amateur photographer from County Down has raised a staggering £11,400 for the Air Ambulance Northern Ireland after selling 1,000 copies of his agriculture calendar featuring imagery of farming contractors working on the Ards Peninsula.
Steven Evans, from Kirkistown, was furloughed from his job as an automatic greaser technician during the early part of last year's pandemic lockdown and it was fresh air and photography that helped the 30-year-old through the long days.
Steven Evans commented, "This whole thing started out as nothing more than a comment-in-passing by one of the contractors, who spoke to me when I was out photographing their machinery working in the fields. The thought of creating a calendar stuck in my head and, well, here we are today handing over a lot of money.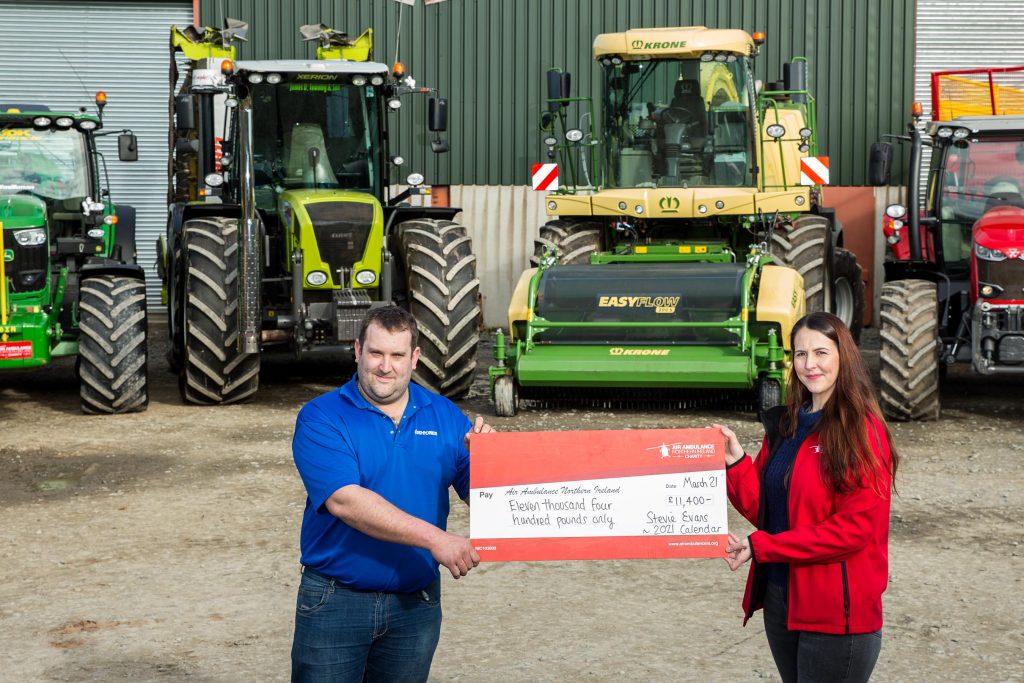 "The initial idea of creating 250 calendars soon got out of hand, and before long 1,000 copies had been printed. The contractors featured within the calendar covered the printing costs and with all copies sold, as well as donations, handing over £11,400 to such a great charity is incredible.
"None of this would ever have been possible without the generosity of the contractors, as well as those who bought the calendars from many local businesses who agreed to sell them on my behalf. Only today, when doing the cheque handover, have I realised what has been achieved.
"The support has been overwhelming from the rural community, mainly on the Ards Peninsula where the calendar was photographed, showing just how much of a benefit they feel the Air Ambulance NI is."
Grace Williams, Area Fundraising Manager for Air Ambulance NI commented: "We are so inspired by the creativity and generosity we are seeing from the public across Northern Ireland and the agricultural sector. Steven Evans' story of creating this calendar after he had been furloughed from work is a real inspiration and we are humbled that he wanted to do this in support of Air Ambulance NI.
"As a service we rely heavily on charitable donations to keep the medical team in the air, delivering critical care to patients who have suffered trauma throughout Northern Ireland- without this type of support, the team simply couldn't fly. The past year has been especially challenging for fundraising and we've seen a dramatic downturn in our income. Every single penny counts.
"We want to say a huge thank you to Steven and everyone who has supported sales of his amazing calendar."
Words & Photos: GRAHAM BAALHAM-CURRY
images must not be used in any way without prior written consent of the photographer