The new Volkswagen roundel now stands proudly outside Agnew Volkswagen, Belfast: the first retailer in the UK to display the brand's refreshed logo and feature its new theming.
The newly updated site has now re-opened as the first Retailer in the country to wear the new look branding, with the illuminated totem out front displaying the refreshed badge. The £2 million refurbishment started around the same time that Volkswagen's new logo and identity were unveiled, and the Belfast Retailer has now completed the work.
With new sales and service facilities, the site is furnished with colourful fixtures and fittings which showcase the brand's new 'Vibrant Power' ethos. As part of this, the graphics inside the showroom have a more colourful palette and heavier focus on people, alongside Volkswagen's range of acclaimed cars.
The site also includes a dedicated area for electric vehicles, in order to highlight the brand's existing electric models, as well as to prepare for the arrival of new models from the fully-electric ID. family in the coming months and years.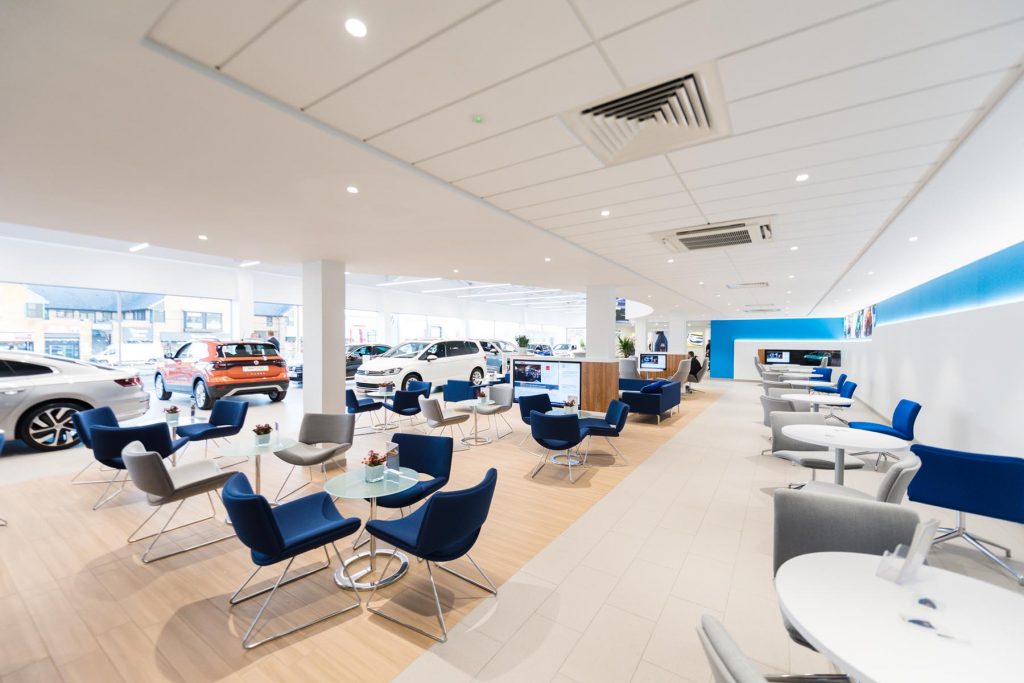 Further sites will display the new identity across 2020, with the full UK rollout expected to be complete by spring 2021.
Brian Robinson, Franchise Director at Agnew Volkswagen said: "These new and significantly improved facilities come in response to the expectations of our customers in the Greater Belfast region and the performance of Agnew Volkswagen in the long term. We are proud to be the first showroom to showcase the new retail experience and branding in the UK, which now provides a luxurious environment for our customers and staff."
Chris Stevens, Head of Network Development at Volkswagen UK, said: "The new Volkswagen logo represents the automotive world into which we are moving – digital, intuitive and user-friendly. All of this is happening while Volkswagen moves into a new era of electrification, and democratises electric mobility, just as the Beetle democratised mobility and the Golf, luxury.
"The new ID. family of pure-electric models will usher this in as the electric 'People's Car', while the revamped logo signifies this step-change to the world. As the direct link to the car-buying public, it's key that our network of Retailers takes advantage of this exciting new tone when communicating with the world, to its fullest potential. Agnew Belfast demonstrates how effective the new design can be, and how fresh and attractive Volkswagen Retailers will look with it in place."