After over a year without a single stage rally in Northern Ireland, Saturday 19 June, 2021 was a day that many had been waiting a long time for. A day when Bishopscourt Racing Circuit hosted the opening round of this year's McGrady Insurance Motorsport UK NI Rally Championship.
Due to ongoing restrictions it was only event officials, marshals and competitors that could gain access to the event, as it was run behind closed gates with no spectator access allowed. Regardless, this event signalled the start of a planned five-round championship and the return of rallying.
The entry list for this season opener in County Down read like a who's who of motorsport with multiple former champions lining up to do battle. Jonny Greer, the 2017 champion, was pitted against eight-time champion Derek McGarrity as well as reigning champion, Stephen Wright, who won the series in 2019.
Meanwhile, 2010 champion Stuart Biggerstaff was also in the mix with a hired Fiesta R5, as well as three-times champion Kenny McKinstry. Being the first event since March 2020, all eyes were at the top of the field to see who could blow their cobwebs off the quickest.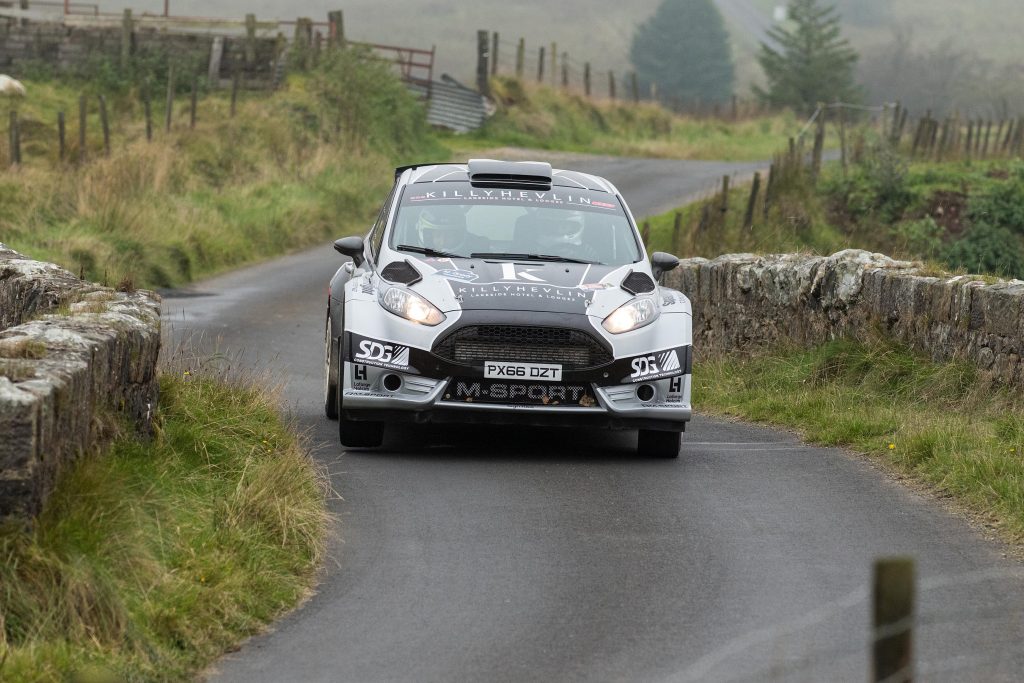 Round 1 – McGrady Insurance Stages Rally – Bishopscourt Racing Circuit:
Veteran driver, Derek McGarrity managed that in his 16-year-old Ford Focus World Rally Car, as he set the fastest time on SS1 of the Ballynahinch and District Motor Club event. Jonny Greer in his new and much more nimble Citroen C3 R5 fought back on SS2 to take a six-second lead and he never looked back.
Even catching another competitor on stage five failed to slow the Citroen pilot and Greer rallied home to secure a solid victory and maximum Championship points.
Desi and Mark Henry held third over during the early stages until a front puncture dropped them out of contention. Instead, Stephen Wright and Liam Moynihan took up the mantle and they went on to complete the top three in their Ford Fiesta.
Wright battled with an increasingly fast Phillip Allen and Ian Dickson until a spin and a stall on stage five thwarted Allen's challenge. A charge on the final test reduced the gap to Wright to just four seconds but it wasn't enough for the Hyundai pilot.
The two-wheel-drive battles saw Barry Morris and Dylan Doonan nip into ninth overall after the final stage, a couple of seconds ahead of Kieron and Amy Graffin. Morris also claimed the two-wheel-drive category win in the process after a faultless drive in his Darrian.
Damian Toner and Denver Rafferty tried to keep Morris honest but in the end, the lightweight Darrian proved too much to handle. Morris took the category win by more than 20 seconds, with Toner third ahead of the Starlet belonging to Jason Black and Karl Egan.
Round 2 – Eakin Bros Brian James Trailers Dogleap Stages Rally – Shackleton Complex in Ballykelly:
Desi and Mark Henry trailed long-time rally leaders Jonny Greer and Kirsty Riddick by over 10 seconds when they entered the final stage. Having set fastest times on the five previous stages, it looked as though Championship leader Greer was on course for victory until his hopes were dashed by a pothole early on the sixth and final stage.
Greer's potent Citroen C3 hit the pothole with such force that it punctured a front tyre, leaving the Carryduff man struggling for virtually the whole stage. As he understeered around the track, he was caught and passed by a couple of crews and the resultant time loss of over one minute dropped him to fourth overall.
Desi Henry wasn't without his own dramas during the day. In fact, he was lucky to be in the rally after an altercation with a bale during the fourth stage. The damage punctured a hole in his Hyundai's radiator and he finished the test with steam billowing from his engine bay.
Luckily, his service crew was able to fix the problem in time for the fifth stage and he looked set to claim second overall until Greer hit trouble on that fateful final test. Instead, it was Henry who arrived home in first position and as winner of the Dogleap Rally!
In second place, Aaron McLaughlin and Darren Curran entered the final test determined to hold on to third overall. So when they discovered they had finished second, it came as a complete surprise for the former event winners. They survived a spin on stage four and were overjoyed to take the runner-up spot.
Third-placed Stephen Wright and Liam Moynihan were another crew that were lucky to reach the finish. A difficult start to the day saw the reigning champion have a high-speed slide into one of the trackside hay bales on the opening stage. Luckily, the resultant damage was only superficial but the incident left them languishing in eighth position.
The two-wheel-drive battles saw Barry Morris and Dylan Doonan in eighth overall and first among the two-wheel-drive field with their Darrian T90. Their eventual winning margin was 1m35.5s over the chasing Escort belonging to John Bradley and Crawford Henderson.
However, Bradley's Escort was no match for the lightweight Darrian that Morris piloted perfectly on every stage. Instead, Bradley had to keep a close eye on the chasing John and David Bonner, who were also in an Escort. And it was a really close call at the finish with just half a second separating the two rivals!
Round 3 – PRM Group/RPM Motorsport Loughgall Stages Rally – Loughgall Country Park:
Desi and Mark Henry started Loughgall as they finished the previous event – at the top of the timesheets. Much to the delight of the spectators who were allowed to attend, packing out the picturesque country park in Loughgall.
The Portglenone driver powered through the opening stage 2.4 seconds faster than reigning champion Stephen Wright and Liam Moynihan, while Greer was a cautious third. However, the tables turned on stage two when Henry lost time with fuel pump troubles.
Greer capitalised on Henry's woes and powered to the top of the leaderboard, moving in front of both Henry and Stephen Wright. Then, when stage three started, Henry was nowhere to be seen as his mechanics were busy beavering away on his Hyundai, trying to replace the broken pump.
It looked as though the struggling Hyundai pilot was either out of the rally or, if the car was fixed in time, would potentially incur some 'late arrival' penalties. But in a twist of fate, stage three was subsequently cancelled as a result of an issue outside of the organising motor club's control.
A handful of crews had already completed the stage while those competitors who didn't complete the stage – including Henry – were awarded a notional stage time. According to motorsport rules, this was the time set by the last competitor who successfully completed the cancelled test. That left Henry some 14 seconds adrift of the leaders with little chance of clawing back that time.
Then, in another twist of fate, organisers opted to scrap everyone's stage three times. Suddenly, the battle between Greer and Henry was back on and by the end of stage five, it appeared as though one-tenth of a second separated the two drivers.
However, after consultation of the motorsport rulebook, organisers opted to reinstate those stage three times before the start of the final stage. That meant rally leader Greer had an advantage of more than nine seconds over Stephen Wright, with Desi Henry in third.
All Greer needed to do was to keep his Citroen neat and tidy through the final miles to claim victory and bolster his N.I. Championship lead. But that was easier said than done. The heavens opened before the test and organisers were forced to postpone the start on safety grounds.
Eventually, crews were allowed to tackle the rain-soaked stage with Greer taking a measured approach to secure the Loughgall spoils!
Henry pulled out all the stops over stage six to reclaim second position from Stephen Wright. In the end, they finished 6.4 seconds behind the rally winners and were left rueing their earlier mechanical troubles.
In third position, Stephen Wright and Liam Moynihan lost time with a couple of minor mistakes throughout the day that may have cost them second position.
The two-wheel-drive battles saw Damian Toner and Denver Rafferty in their Ford Escort MkII claim an astounding fifth overall whilst netting the two-wheel-drive honours. Barry Morris and Dylan Doonan were equally impressive as they secured second in their lightweight Darrian T90.
Morris had been embroiled in a battle with Jason Black and Karl Egan until the Starlet crew lost time with multiple punctures. Black even managed to set some fastest 2WD times but was forced to settle for third 2WD and eighth overall.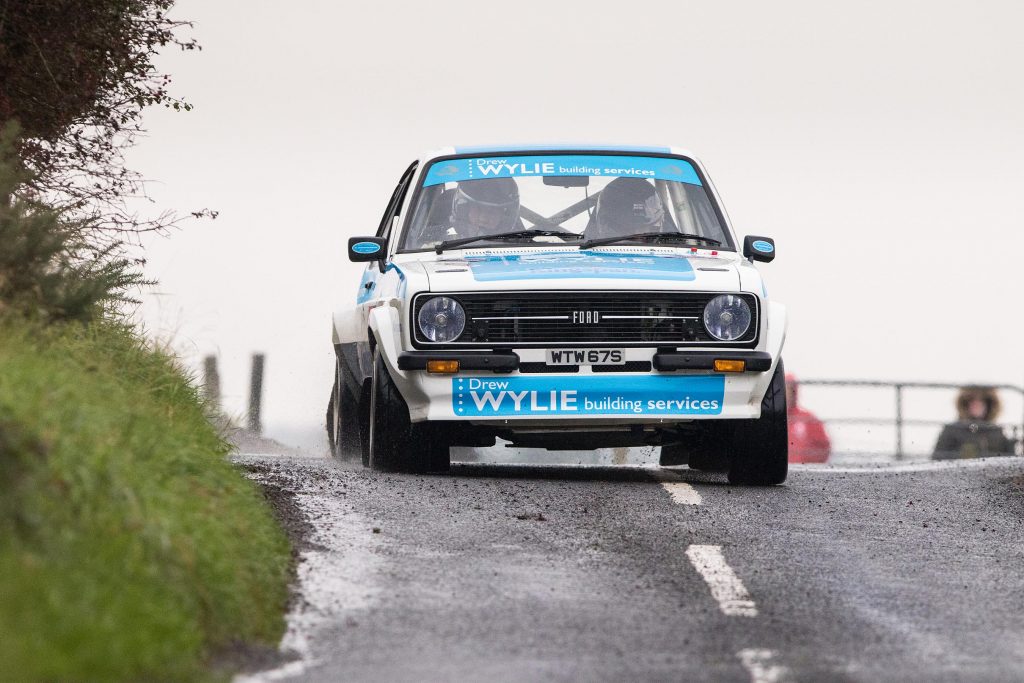 Round 4 – Go Power Tour of the Sperrins Rally – Sperrin Mountains:
The battle for the rally spoils transpired to be a three-way affair between Callum Devine, Desi Henry and Phillip Allen. Devine took first blood on the opening stage to move into an early lead but Desi Henry replied with a stunning time over the second test to grab the advantage.
Then Henry's bid for victory went awry when he overshot and stalled at a hairpin on stage three. That dropped him behind Devine as well as Philip Allen who moved into second position.
After the service halt, 11 seconds covered the top three crews with Devine leading in his Fiesta by eight seconds from Allen. It was all to play for and over a slippery fourth stage, Allen pulled out all the stops to set the fastest time. He reduced Devine's lead to just 4.9 seconds with two stages remaining.
Unfortunately for Allen, stage five proved to be the turning point of the event. The heavens opened and the treacherously wet stage caught out the Cookstown driver. He slid wide at a left-hander, clipped a telegraph pole and crashed into a field.
Desi Henry also struggled through the same stage. He had fitted slick tyres to his Hyundai for the test, only for the rain to pound the tarmac.
Henry lost 10 seconds to the leaders in one swoop so it was Devine who entered the final test as the odds on favourite for the rally win. With almost 20 seconds in hand over his nearest rivals, he was able to manage his pace through the closing miles. His eventual winning margin over second placed Desi Henry and Niall Burns was 34.7 seconds.
Desi Henry and Niall Burns were left rueing their earlier overshoots and half spins but second overall was a just reward for a hard day's work.
Having won the title for the first time in 2017, Jonny Greer entered the final event of the season knowing that a measured drive would ensure his second title success. With an advantage of five points, he knew the pressure was on his rivals, allowing him to concentrate on staying safe and bringing the car home.
Navigated by Kirsty Riddick in his Citroen C3 R5, the crew rallied home to finish third overall at the Magherafelt and District Motor Club organised event, which was more than enough to lift the prestigious title for the second time!
"We decided to contest the Northern Ireland Championship this year to get ourselves up to speed in the Citroen," said Greer. We've basically had to start from zero to develop the car but everyone has done a fantastic job. The opening rounds went well so we just had to get to the finish."
In the two-wheel-drive category, David Bogie and John Rowan secured the spoils on the event but it is Barry Morris who has captured the McGrady Insurance N.I. 2WD Championship title.
Driving his Darrian, he and navigator Dylan Doonan finished ninth in the category but that was enough to maintain their position at the top of the standings. John Bradley is second in the championship standings ahead of Gareth Irwin and John Devlin.
Jason Black and Karl Egan sealed second 2WD (on the event) in their Starlet with Camillus Bradley and Crawford Henderson third. It was Bradley's first rally in approximately three years.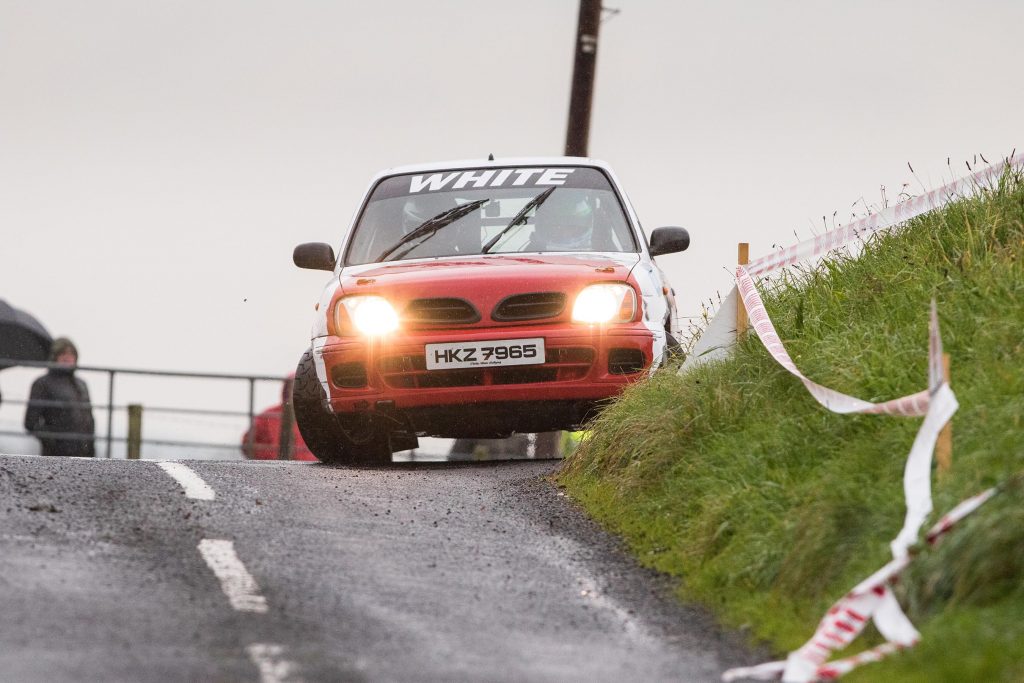 Round 5 – MJE Wheel Repair Tyrone Stages Rally – CANCELLED:
A club statement posted to Facebook on the 13th of September read, "It is with great regret that the Directors of Cookstown Motor Club Ltd. have taken the decision to cancel the MJE Wheel Repair, Tyrone stages rally 2021 owing to the prevailing COVID-19 situation."
2021 McGrady Insurance Motorsport UK NI Rally Championship standings:
Drivers top 10:
1 – Jonny Greer
2 – Stephen Wright
3 – Peadar Hurson
4 – Desi Henry
5 – Barry Morris
6 – Derek McGarrity
7 – John Bradley
8 – Aaron McLaughlin
9 – Niall Henry
10 – Jason Black
Co-drivers top 10:
1 – Kirsty Riddick
2 – Liam Moynihan
3 – Damian Connolly
4 – Paddy Robinson
5 – Justin McCauley
6 – Darren Curran
7 – Dylan Doonan
7 – Karl Egan
9 – John McCarthy
10 – Mark Henry
Two-Wheel-Drive:
1 – Barry Morris
2 – John Bradley
3 – Gareth Irwin
Group N:
1 – Joel Eakin
2 – Ronnie McConnell
3 – Marshall Kennedy
Junior:
1 – Philip White
2 – Jason Black
3 – Shane Quinn
Historic:
1 – Drew Wylie
2 – Richard Hall
3 – Philip Wylie
Words and Photos: GRAHAM BAALHAM-CURRY