As you maybe know, the Sports Utility Vehicle (SUV) market has been booming for the last few years with most manufacturers offering a couple of models, covering most demographics and, Mazda is no different.
The Japanese maker has for years, been building super reliable and incredibly well built motors with favourable pricing – yes they have always been a little no-frills inside, but that's always been fairly reflected in the brands pricing.
In the last couple of years I have managed to sample most of the Mazda range and, one could argue, they are still a little behind their German rivals in regards to the materials used within the cabin.
But, I'll be the first to admit that the difference is so slender, it isn't something that would come into my mind when shopping.
With their compact SUV, the CX-3 being a popular choice; Mazda has, about a year ago, rejuvenated the larger CX-5. First launched seven years ago, the CX-5 has become a familiar sight on our roads and for good reason.
The reasons for choosing a CX-5 have never been stronger either, as this latest variant from Japan offers a much more refined, better equipped and sharper drive than ever before whilst retaining its favourable pricing.
With added safety and radar cruise control, as well as Apple CarPlay and Android Auto now standard across the range, the CX-5 now only comes with a 2.2L turbocharged diesel engine whilst an automatic petrol option has been added.
I feel this Mazda is one of the finest looking models within the class, against the likes of Honda's CR-V or Toyota's Rav4 as far as fellow countrymen go, or perhaps Ford's Kuga or VW's Tiguan for some European comparison.
Unquestionably Mazda, the CX-5 features the signature styling and front end design that runs across the full range allowing it to sit well as the largest of the family and, with only three trim levels on offer, buying a CX-5 couldn't be easier.
Starting from £25,600 with an 'SE-L Nav +' the CX-5 comes as standard with 17-inch grey metallic alloy wheels, premium black cloth trim, AM/FM/DAB radio with single CD player, climate control, LED headlights with LED daytime running lights and rain-sensing front wipers.
Next in the model range is the 'Sport Nav +' as tested which starts from £28,700 and includes 19-inch silver alloy wheels, black leather upholstery, Bose speakers surround-sound system, power lift boot opening and windscreen projected colour head-up-display.
Finally, the range topping 'GT Sport Nav +' add a different style of 19-inch alloy wheel, Nappa leather, gunmetal radiator grill, sunroof on a 7-inch TFT colour driver display, with prices starting from £31,100.
Load space comes in at around 500 litres – more than enough for family life, even one with younger kids that come with their own wheeled mode of transport that must be chucked into the boot with everything else young kids require.
Inside, the stone leather heated seating is comfortable, and the layout of the cabin is incredibly user friendly with stitched soft touch material throughout, adding an edge of quality and refinement, especially over the previous model.
A couple of USB ports up-front keep devices well charged, but something that most manufacturers forget, is that those who maybe don't travel the best are the kids and generally speaking, they travel in the back.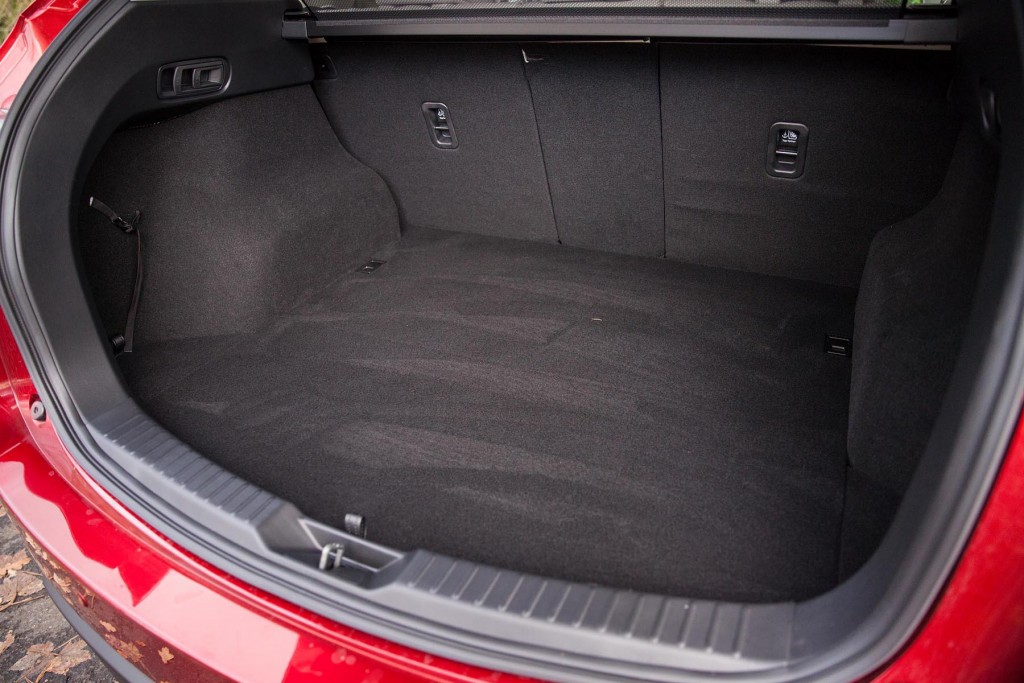 Mazda have cleverly fitted a pair of USB ports into the rear central armrest, meaning so long as you aren't travelling as a family of five, then on a long run you can be assured the kids 'electronic nanny' will never run out of energy and your journey should be a little less disturbed.
Engine wise, things are kept as simple as the trim levels with just two available.
Firstly a 2.0L petrol producing a reasonable 165PS is offered with either a 6-speed manual, or 6-speed automatic gearbox and comes as front wheel drive only. This engine, along with the automatic gearbox is what we experienced on this test drive thanks to Mazda UK.
A top speed of 119mph is achievable with a 0-62mph time of 9.8 sec which is more than respectable and expect economy in the real world to be early 30's mpg.
Secondly a 2.2L turbocharged diesel can be chosen with either 150PS or a fairly healthy hefty 184PS, the latter being four-wheel drive, while both can be chosen with either a 6-speed manual or 6-speed automatic gearbox.
Off-road, the CX-5 will cope with most rural lanes, undulating fields and the odd small obstacle thanks to its 200mm of ground clearance that's on offer – though it's most at home on-road where it excels in the class and drives in a way that many SUV's struggle.
Maximising Mazda's Skyactiv technology, weight is in all the right places and the CX-5 has minimal roll and outside of the school-run, is very capable and confident on even the most meandering of journeys.
With a three-year, 60,000 mile warranty on offer as standard, servicing should be done annually or at 12,500mile intervals.
Fact File for model tested:
Make :  Mazda
Model :  CX-5
Trim : Sport Nav +
Engine : 2.0 petrol
Gearbox : 6-speed automatic
Cost Circa : £32,000
Words & Photos: GRAHAM BAALHAM-CURRY
[images must not be used in any way without prior written consent of the photographer]