The Mazda CX-60 is a new SUV by Mazda UK that offers both plug-in hybrid and diesel options. It is the first PHEV model by Mazda and it features a range of new technologies and design elements that aim to create a fantastic experience for the driver and their passengers.
The PHEV version of the CX-60 has a 2.5-litre petrol engine and an electric motor that work together to deliver a combined power of 327ps. The battery can provide up to 39 miles of pure electric driving when in Normal or EV mode, and it comes with a guarantee of 8 years or 100,000 miles, whichever comes first. The PHEV CX-60 also has a low environmental impact, with CO2 emissions of 33 g/km and a fuel economy of 188.3 mpg.
The diesel version of the CX-60 has a 3.3-litre inline-six engine that offers low emissions and excellent fuel efficiency with high levels of torque. The diesel engine is refined and smooth, and it is ideal for long-distance driving and towing heavy loads.
The CX-60 is available in three trim levels: Exclusive-Line, Homura and Takumi.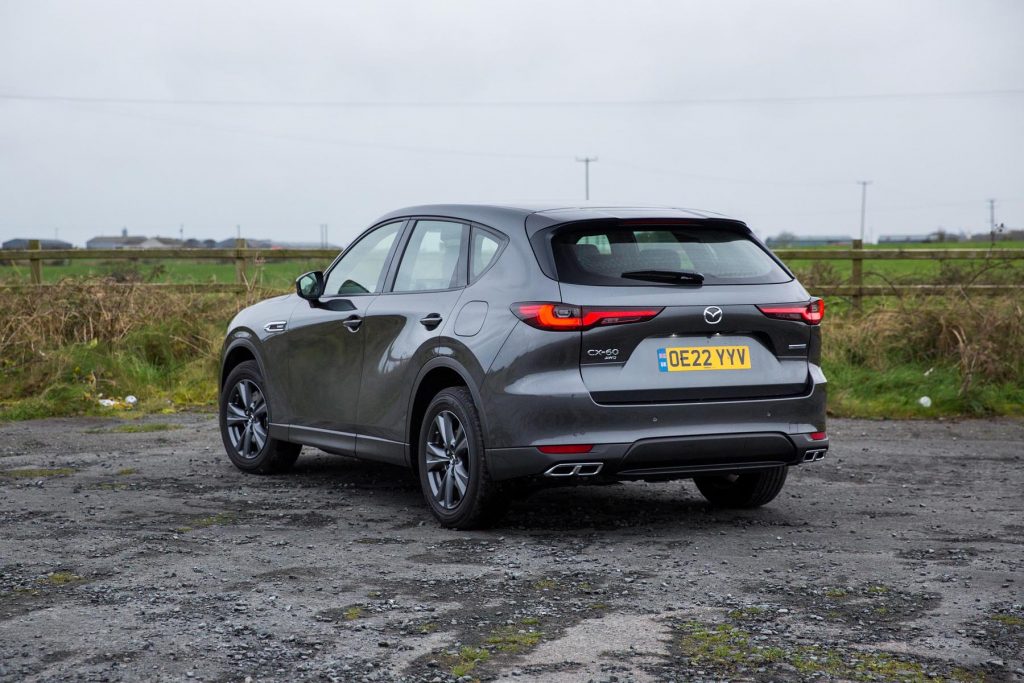 Priced from £43,010 all trim levels come with a generous list of standard equipment, such as 18-inch grey metallic alloy wheels, black leather trim with heated front seats, LED headlights and taillights, dual-zone climate control, head-up display, 10.25-inch touchscreen infotainment system with Apple CarPlay and Android Auto, wireless phone charger, rear parking camera and sensors, adaptive cruise control, lane-keep assist, blind spot monitoring and rear cross traffic alert.
The Homura starts at £48,170 and adds some extra features, such as 20-inch black metallic alloy wheels, gloss black honeycomb front grille and gloss black wing mirrors for a sportier appearance. Inside a range of features for added comfort; front seat ventilation, electric steering wheel adjustment, heated outer rear seats and the new Mazda Personalisation System.
With pricing starting from £49,520.00 the Takumi is the top-of-the-range trim level allowing you to experience unique Japanese design with the Mazda CX-60 Takumi. Featuring White Nappa leather, chrome exterior and interior detailing. Everything about this model is focused on creating a comfortable and satisfying environment for the driver and their passengers.
The CX-60 also boasts a masterfully crafted exterior that reflects Mazda's distinct Japanese aesthetics and the passion of its designers. The CX-60 has a bold and elegant design that features a large front grille with chrome accents, sleek LED headlights with signature illumination, sculpted body lines that create a sense of movement and dynamism, and a spacious and comfortable cabin that offers more space for the driver and their passengers.
The CX-60 also elevates Mazda's concept of Jinba Ittai, which means the oneness of car and driver.
The CX-60 is designed to bring driving pleasure to the driver by creating a unique driving experience that feels comfortable, intuitive and responsive. The CX-60 has a driver-centric cockpit that puts everything in reach and focus of the driver, such as the head-up display, the steering wheel controls and the infotainment system. The CX-60 also has a smooth and agile handling that responds to the driver's inputs with precision and confidence.
Choose the plug-in hybrid petrol engine and 327ps gets delivered to all four wheels via an 8-speed automatic transmission. A lower powered diesel mild hybrid engine produces 200 ps and delivers power only to the rear wheels via an 8-speed automatic transmission. It will return something in the region of 56.5 mpg. A four-wheel-drive mild hybrid diesel produces 254 ps and via the 8-speed automatic transmission will return 54.3 mpg.
Mazda offer a three-year /60,000 mile warranty with servicing every 12,500 miles or 12 months (whichever comes sooner).
Words & Photos: GRAHAM BAALHAM-CURRY
Images must not be used in any way without prior written consent of the photographer